Take a look at the Stratasys F900
The most powerful Fused Deposition Modeling (FDM) System
Production 3D Printer
The Stratasys F900 has ALL that the Stratasys FDM Production family has to offer, on a bigger scale!
The ultimate manufacturing-grade production 3D printer, printing widest array of engineering-grade materials, maximum throughput, largest build platform, highest accuracy and precision built for reliability, repeatability, and durability for demanding manufacturing production.
Stratasys F900 Key Features
Fast, reliable, repeatable production 3D printing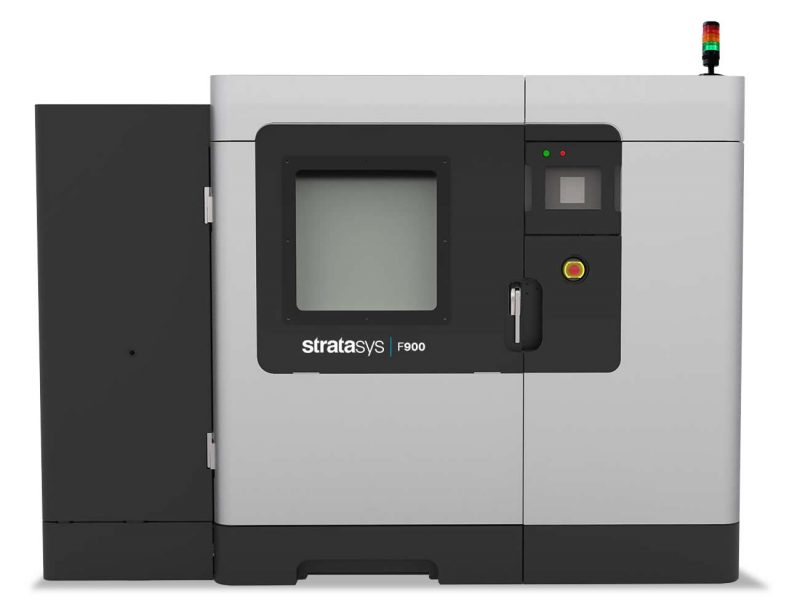 Stratasys F900 net build size: 914 x 610 x 914 mm (36 x 24 x 36 in.) Platen supports two build zones for either a small or large build sheet
You can fine-tune your desired balance between Fused Deposition Modeling's finest possible feature detail and the fastest build.
The Stratasys F900 provides a wide range of thermoplastics with advanced mechanical properties so your parts can endure high heat, caustic chemicals, sterilization, and high impact applications.

Stratasys F900 Specifications
Fine details. Smooth surface finishes. Accuracy. Strength.
| Feature | Specification |
| --- | --- |
| Model Material | ABS-ESD7, ABSi, ABS-M30, ABS-M30i, Antero 800NA, PC, PC-ABS, PC-ISO, PPSF, ULTEM 9085, ULTEM 1010, Nylon 12, Nylon 6, ST- 130, Nylon 12CF™ |
| Layer Thickness | 0.020 INCH (0.508 MM), 0.013 INCH (0.330 MM), 0.010 INCH (0.254 MM), 0.007 INCH (0.178 MM). 0.005 INCH (0.127 MM) |
| Net Build Size (XxYxZ) | 914 x 610 x 914 mm (36 x 24 x 36 in.) |
| Machine Dimensions | 2772 x 1683 x 2027 mm (109.1 x 66.3 x 79.8 in.) |
| Machine Weight | With crate: 3287 kg (7247 lbs.), without crate: 2869 kg (6325 lbs.) |
Material
Layer Thickness
Support
Structure
Colours
0.020 inch (0.508 mm)
0.013 inch (0.330 mm)
0.010 inch (0.254 mm)
0.007 inch (0.178 mm)
ASA
Soluble
Black,

Dark Blue

,

Dark Gray

,

Green

,

Light Gray

,

Yellow

,

White

,


Orange

,

Ivory

,

Red

ABS-M30
Soluble
Ivory,

White

,

Black

,

Red

,

Blue

,

Dark Gray

ABS-M30i
Soluble
Ivory
Antero 800NA
Breakaway
Natural
ABS-ESD7
Soluble
Black
PC-ABS
Soluble
Black
PC-ISO
Breakaway

Translucent Natural

,

White

PC
Breakaway, Soluble

White

ULTEM® 9085
resin
Breakaway
Tan, Black
ULTEM 1010
resin
Breakaway
Natural
PPSF
Breakaway
Tan
FDM Nylon 12CF™
Soluble
Black
FDM Nylon 12™
Soluble
Black
FDM Nylon 6™
Soluble
Black
ST-130™
Breakaway
Natural
Stratasys F900 Benefits
Lets you build, accurate, repeatable parts faster than ever before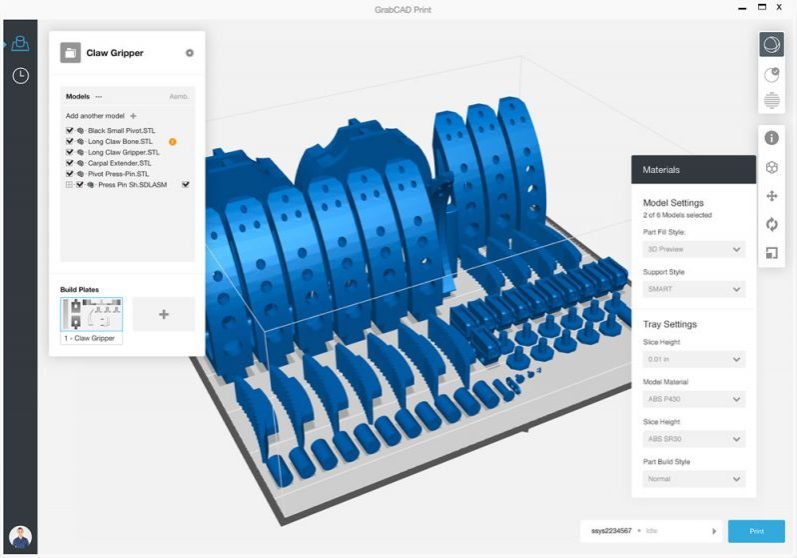 Smarter Software
GrabCAD Print™ software simplifies the entire 3D printing process with an intuitive CAD-like application anyone on your team can use. And with features like detailed reporting and remote monitoring, you can easily manage your print jobs from outside the office.
Combined with the ability to seamlessly share projects between users, it all adds up to a more streamlined, efficient workflow.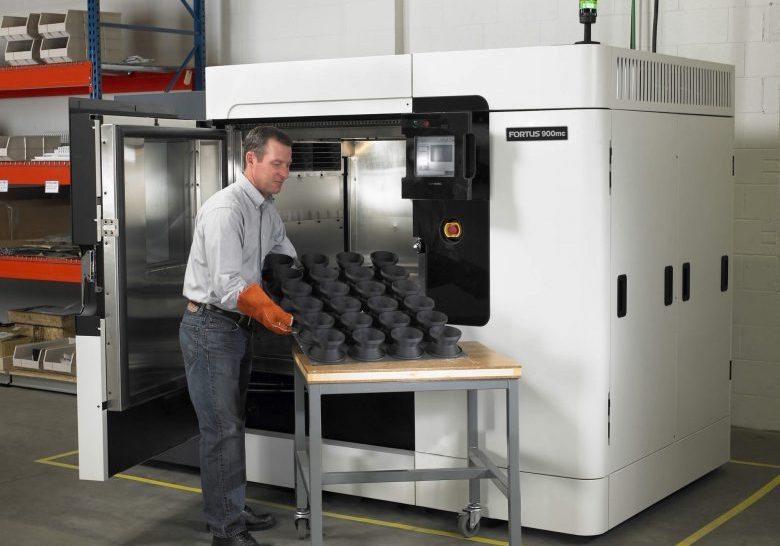 Advanced FDM technology
Fortus systems are based on Stratasys® FDM technology. FDM builds parts in production-grade thermoplastics, enabling the most durable parts.
Fortus systems use a wide range of thermoplastics with advanced mechanical properties so your parts can endure high heat, caustic chemicals, sterilization and high impact applications.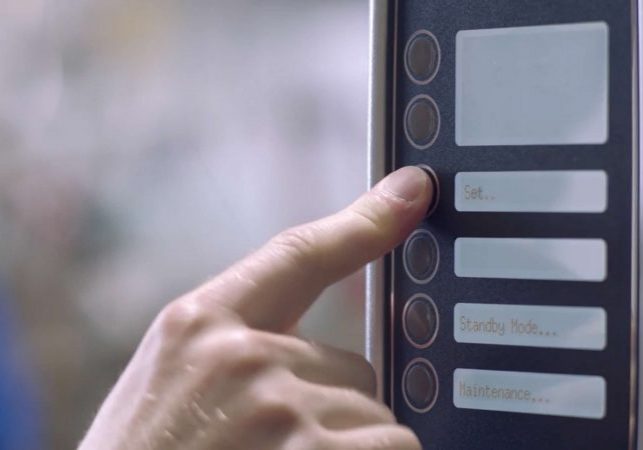 Easy to operate & safe to use
Compared to other additive manufacturing systems, Stratasys F900 3D Production Systems
are easy to operate and maintain as there are no messy powders to handle and contain. They're so simple, an operator can be trained to operate a Fortus system in less than 30 minutes.
You can install a Stratasys F900 Production System just about anywhere. No special venting is required because Stratasys systems produce no noxious fumes, chemicals or waste.
Stratasys F900 Success
Learn how manufacturers are using the production 3D Printer
Stratasys' new Certified 3D Printing Solution for Aircraft Interiors
Hong Kong-based Western Tool & Mold serves the aerospace interiors market where airlines demand quick turnaround of replacement parts to improve supply chain efficiency, but are often challenged due to the unique geometries of individual components.
Stratasys supports Western Tool & Mold with it's recently launched Stratasys F900 Aircraft Interiors Certification Solution to produce aircraft cabin components that meet stringent FAA and EASA certification requirements.
Stratasys F900 Example Parts
Take a look at example models created with the FDM machines:
3D Printer Services
3D Printing Productivity and maintenance with Javelin services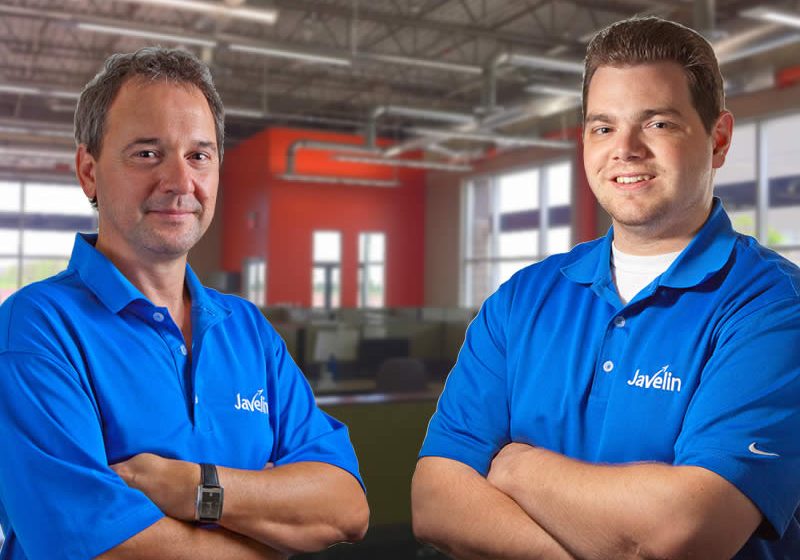 Technical Support
With our 3D Printer Subscription Service, you have access to extensive help from our 3D Printing experts. Which will enhance your hardware investment and guide you through development challenges.
Benefits
Live Technical Support from our certified support team.
Onsite Support to solve your technical issue right on your machine.
Regular Communication of 3D printer software updates and technical tips and tricks.
Learn about our 3D Printer Subscription Service »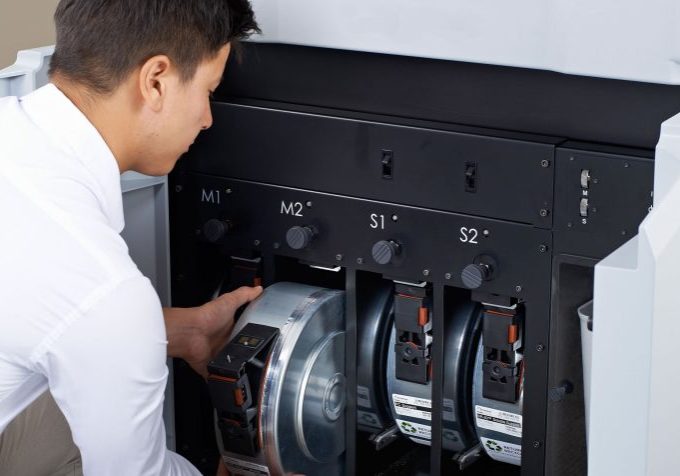 Maintenance & Materials
When you purchase a new 3D printer from Javelin, our service contracts give you predictable maintenance costs and simplified purchasing cycles for spare parts, service and consumables/material.
Advantages
Annual onsite service of your machine
Get replacement 3D printer materials and parts directly from us
Exclusive pricing for Education
Contact us to learn more about educational pricing and maintenance contracts for educational institutions.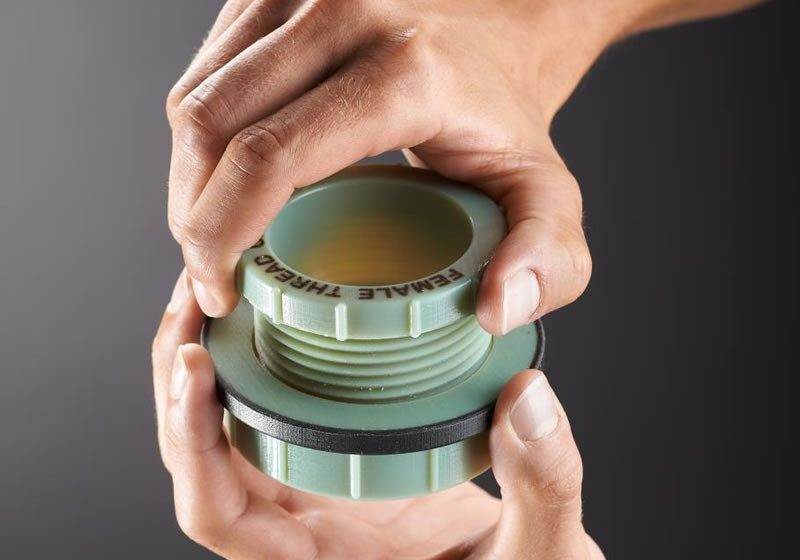 3D Printer Training
Our exclusive 3D Printing training and mentoring will show you how to optimize and 3D Print your 3D models more cost effectively to become an Additive Manufacturing expert:
Features
Learn how to print Your 3D designs with confidence
Understand 3D printing technology and material usage
Reduce your 3D printing time and costs
Is the Stratasys F900 right for you?
Call us free at  1-877-219-6757  and get your questions answered