Take a look at the Stratasys J850 / J835 / J826
3D Print Photorealistic Prototypes with ease
Unmatched product realism
The Stratasys J850™ / J835™ / J826™ 3D printers deliver unrivaled aesthetic results with full-colour capability including texture mapping and colour gradients. This lets you create prototypes that look and feel like real products, and accurately show design intent in colour, material and finish.
These 3D printers are PANTONE Validated™ making the PANTONE MATCHING SYSTEM (PMS) colours available in a 3D printing solution. With expansive colour combinations to choose from and multi-material capability, the Stratasys J8 Series printers let you create the most realistic models and prototypes in the shortest time possible, without the need for painting or assembly.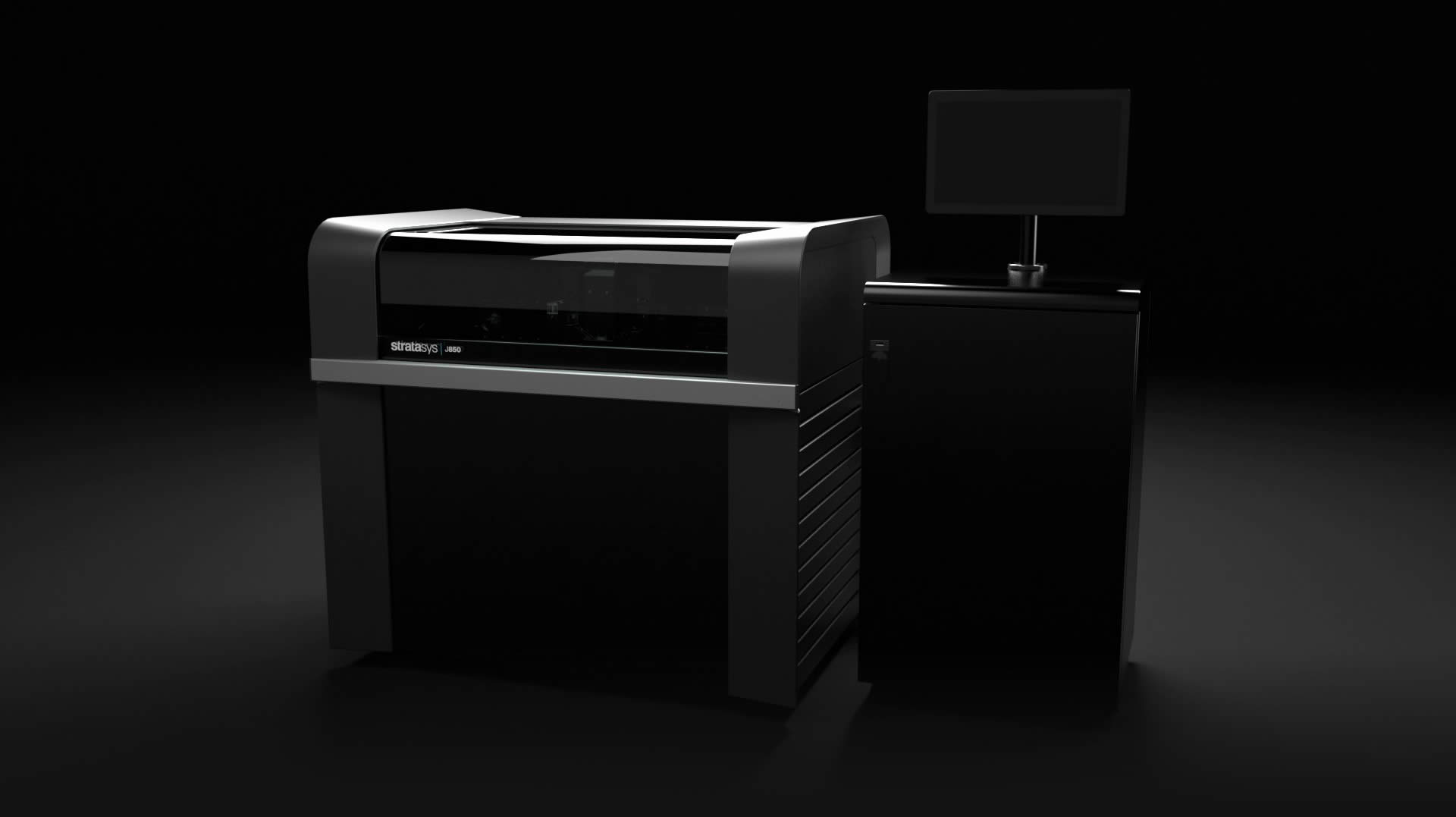 Making design decisions that will give you the edge over your competition is easier and faster than ever before. The J8 Series 3D printer offers twice the material capacity, four times the number of jets and four times the speed of most printers on the market.
Research, test, and present your idea multiple times in one product cycle, all with unmatched realism. With 3D printing, you can perfect a prototype that looks like the real thing, for ultimate customer buy-in and a better end product.
Faster than most other 3D printers on the market
More design iterations compared to traditional prototyping methods
Stratasys J850 / J835 / J826 Key Features
A whole new world full of colorful texture mapped designs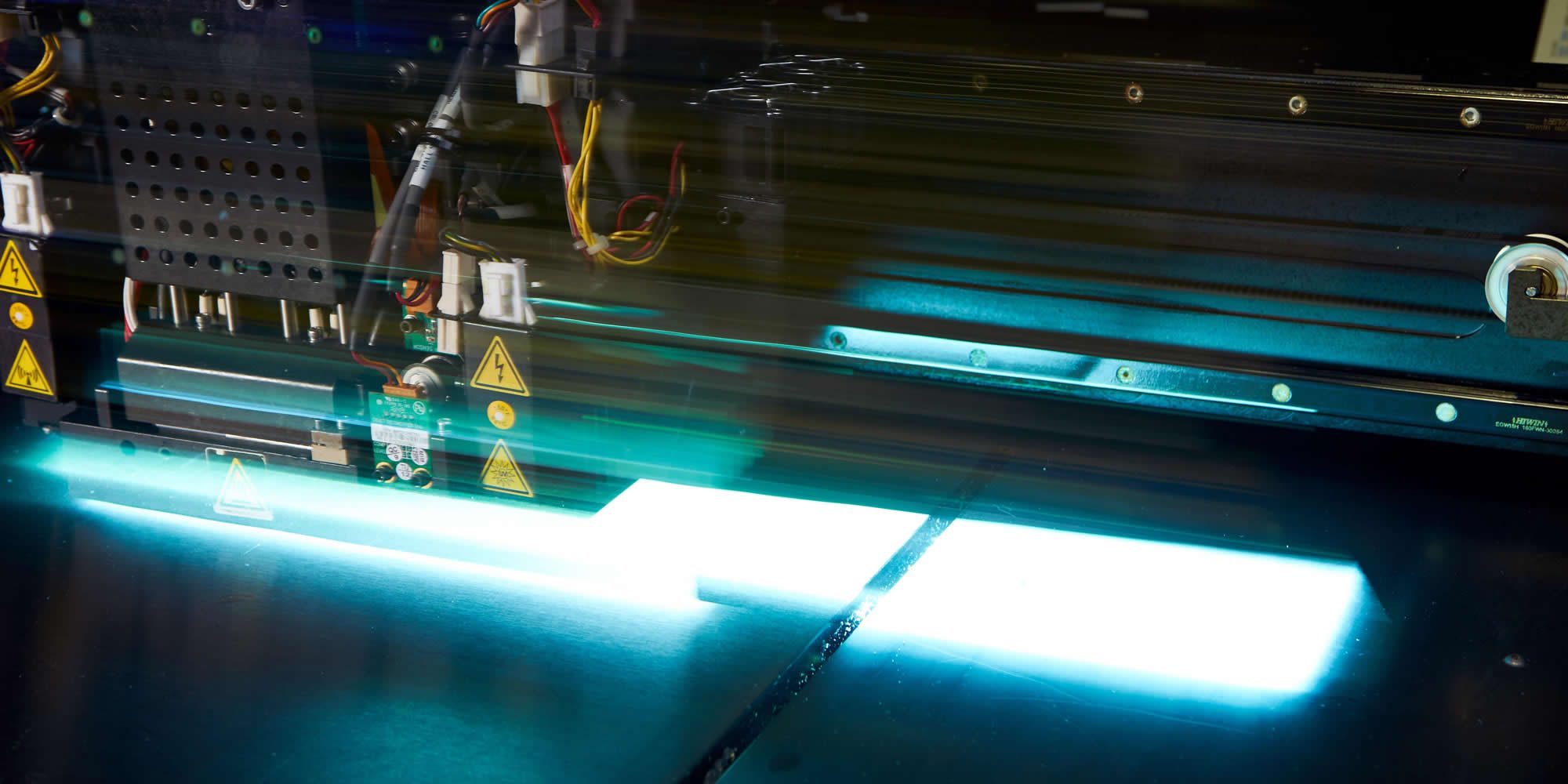 With extensive true-to-life Pantone Matching System (PMS) colour options, you can integrate vibrant colours into multi-material models. Also, mimic textures such as leather, wood, etc. No other 3D printer offers this level of final product realism.
New seven material cabinet and 4kg cartridge.  Avoid downtime associated with material changeovers; print more complex parts.
Automotive
Medical Hospitals
Medical Schools
Medical Device Manufacturers
Orthopedics and Prosthetics
Consumer Goods
Education
Microscopic drops are jetted in super-thin layers of just 20-85 microns for features below 50 mm; up to 200 microns for full model size (for rigid materials only).
Unlimited number of composite materials including over 500,000 colours. You can print with opaque, clear, flexible and rigid material.
Rapid Prototyping
Concept Models
Medical Models
Jigs & Fixtures
Coloured Textures
Multi-materials printed on one product

Stratasys J850 / J835 / J826 Specifications
Unparalleled 3D printing versatility
Feature
Specification
Model Materials
Digital Model Materials
Unlimited number of composite materials including:
Support Materials
SUP705 (WaterJet removable) SUP706B (soluble)
Workstation Compatibility
Windows 10
Network Connectivity
LAN - TCP/IP
System Size and Weight
J826 System: 820 x 1310 x 665 mm (32.28 x 51.57 x 26.18 in.); 234 kg (516 lbs.)
J826 Material Cabinet: 1119 x 656 x 637 mm (44 x 25.8 x 25.1 in.); 153 kg (337 lbs.)
J835/J850 System: 1400 x 1260 x 1100 mm (55.1 x 49.6 x 43.4 in.); 430 kg (948 lbs.)
J835/J850 Material Cabinet: 1119 x 656 x 637 mm (44 x 25.8 x 25.1 in.); 153 kg (337 lbs.)
Operating Conditions
Temperature 18 – 25 °C (64 – 77 °F); relative humidity 30-70% (non-condensing)
Power Requirements
100–120 VAC, 50–60 Hz, 13.5 A, 1 phase 220–240 VAC, 50–60 Hz, 7 A, 1 phase
Regulatory Compliance
CE, FCC, EAC
Software
GrabCAD Print, including the optional add-on GrabCAD Voxel Print™
Build Sizes
J826: 255 x 252 x 200 mm (10 x 9.9 x 7.9 in.)
J835: 350 x 350 x 200 mm (13.8 x 13.8 x 7.9 in.)
J850: 490 x 390 x 200 mm (19.3 x 15.35 x 7.9 in.)
Layer Thickness
Horizontal build layers down to 14 microns (0.00055 in.)
55 microns (0.002 in.) in Super High Speed mode (not available on J826)
Build Modes
High Quality: up to 7 base resins, 14-micron (0.00055 in.) resolution
High Mix: up to 7 base resins, 27-micron (0.001 in.) resolution
High Speed: up to 3 base resins, 27-micron (0.001 in.) resolution
Super High Speed: 1 base resin, 55 micron (0.002 in.) resolution
Accuracy
For J826: Typical deviation from STL dimensions, for models printed with rigid materials, based on size: under 100 mm – ±100μ; above100 mm – ±200μ.
For J835 and J850: Typical deviation from STL dimensions, for models printed with rigid materials, based on size: under 100 mm – ±100μ; above 100 mm – ±200μ or ± 0.06% of part length, whichever is greater.
Workflow Process
3D print design iterations from concept to final design

Concept Design
Faster, at a Reduced Cost
Super High Speed Printing Mode for concept modeling that is twice as fast as the High Speed Printing Mode. Featuring:
New DraftGrey material
Great resolution (54um) and surface finish
Easy post-processing
Detailed Design
Accelerate With More Detail
More design details earlier in the process:
More iterations = better design decisions
Improve the accuracy and depth of design feedback from relevant stakeholders (marketing, manufacturing, sales teams, etc.)
Easier to identify design flaws
Final Design
Save Time and Money
Achieve realistic look and feel of the end product:
More final design models (5x) compared to traditional methods.
Exceptional fine details in design, texture and colour.
Print 7 materials simultaneously on the same part
Easier to identify design flaws
Stratasys J850 / J835 / J826 Benefits
Lets you build, accurate, repeatable parts faster than ever before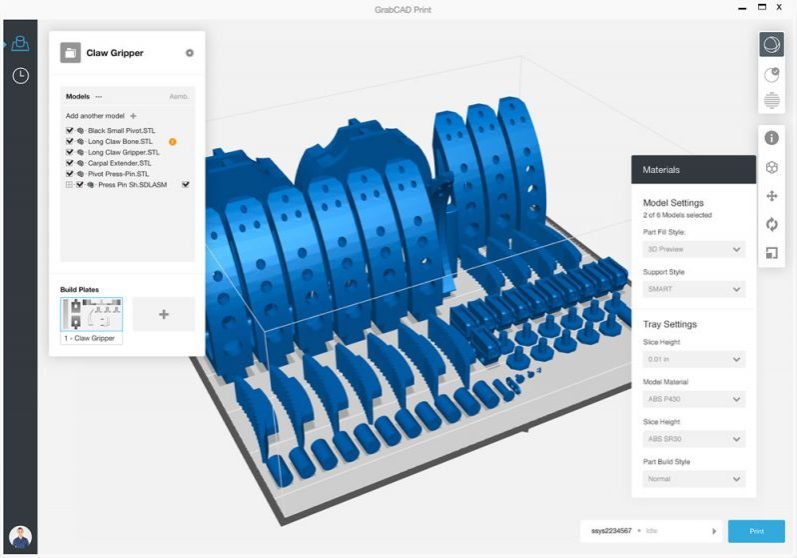 Smarter Software
Streamline your workflow with GrabCAD Print™ software. GrabCAD Print lets you print directly from your favorite professional CAD formats, avoiding time usually spent converting and fixing STL files. Matching PANTONE Colours is a single-click step in GrabCAD Print, eliminating time-consuming painting or trial-and-error colour matching.
Use smart default settings, tooltips and notifications to guide you through a seamless printing process. Work with detailed views of your model, tray, and slice preview so you can make necessary adjustments before going to print.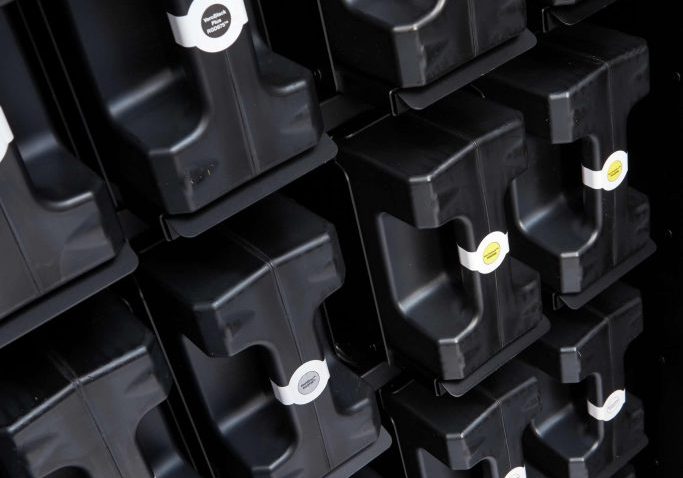 Faster Workflow
The large, seven-material capacity of the Stratasys J835 and J850 means you can load your most used resins and avoid downtime associated with material changeovers.
Multiple print modes let you adjust the speed and quality of the print to meet your specific needs. For the fastest creation of concept models, use Super High Speed mode with DraftGrey™ material. Additional print modes support multiple materials and higher print resolutions.
The J835 and J850 also feature two support material options: SUP705™, removed with a water jet, and SUP706B™, which is soluble and easily removed for automated post-processing and increased geometric freedom to print complex and delicate features and small cavities.
Unparalleled Capability
The J835 and J850 provide unmatched capability to achieve maximum realism for 3D printing applications in the consumer product, medical and educational disciplines. The printers' vast array of colours and material properties, from rigid to flexible and opaque to transparent, eliminate the need to use multiple processes to create realistic prototypes and models.
Leverage the capability to combine seven different materials in a single part for unprecedented combinations of color, transparency and flexibility.
Nearly 2000 colours from the PANTONE® Formula Guide Solid Coated and all of the PANTONE® SkinTone™ colors let you design and print colour-critical parts with confidence.
Stratasys J850 / J835 / J826 Success
Learn how designers are using the colour 3D Printer
Stratasys J850 / J835 / J826 Example Parts
Take a look at example models created with the colour machine
3D Printer Services
3D Printing Productivity and maintenance with Javelin services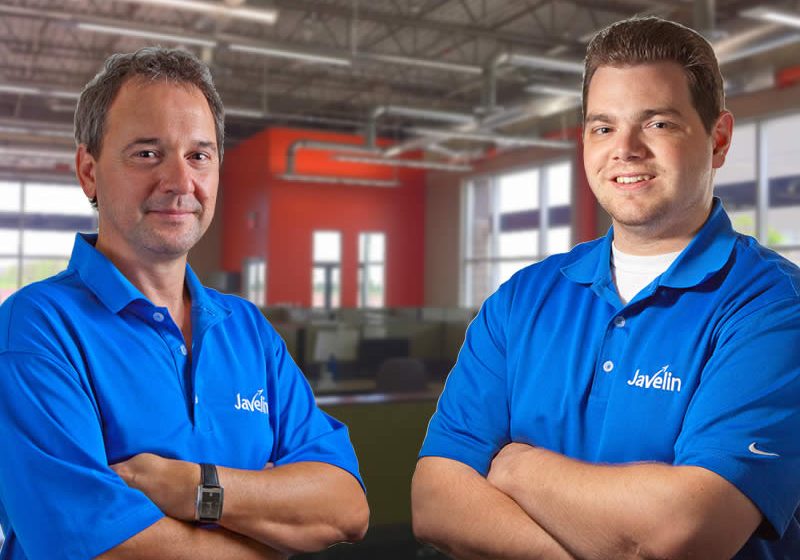 Technical Support
With our 3D Printer Subscription Service, you have access to extensive help from our 3D Printing experts. Which will enhance your hardware investment and guide you through development challenges.
Benefits
Live Technical Support from our certified support team.
Onsite Support to solve your technical issue right on your machine.
Regular Communication of 3D printer software updates and technical tips and tricks.
Learn about our 3D Printer Subscription Service »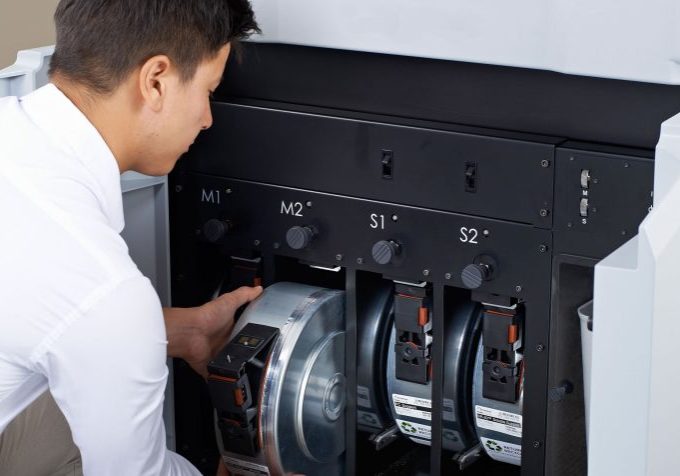 Maintenance & Materials
When you purchase a new 3D printer from Javelin, our service contracts give you predictable maintenance costs and simplified purchasing cycles for spare parts, service and consumables/material.
Advantages
Annual onsite service of your machine
Get replacement 3D printer materials and parts directly from us
Exclusive pricing for Education
Contact us to learn more about educational pricing and maintenance contracts for educational institutions.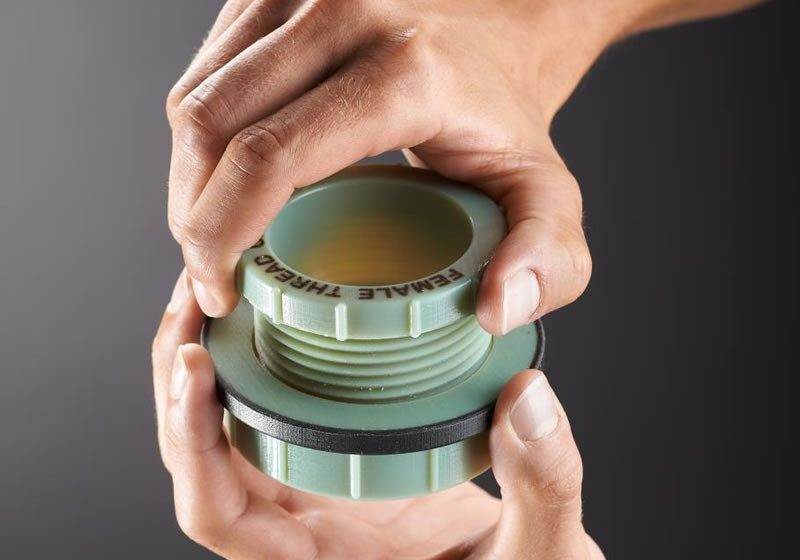 3D Printer Training
Our exclusive 3D Printing training and mentoring will show you how to optimize and 3D Print your 3D models more cost effectively to become an Additive Manufacturing expert:
Features
Learn how to print Your 3D designs with confidence
Understand 3D printing technology and material usage
Reduce your 3D printing time and costs
Is the Stratasys J850 / J835 / J826 right for you?
Call us free at  1-877-219-6757  and get your questions answered