Take a look at the MakerBot Replicator+
Shift from the 3D digital world to a physical part
Defining the new standard for entry-level 3D printing
The MakerBot Replicator+ Desktop 3D Printer is the fastest and most affordable tool yet for making 3D models and product concepts. Easily create professional-quality prototypes and highly complex models.
Why MakerBot?
MakerBot machines are made for the desktop…and the workbench
It's Strong

Black powder-coated steel frame for incredible strength and durability. Resistant to changes in temperature.

It's Quiet

Designed for quiet desktop operation. Uses 32% less power than the original MakerBot Replicator!

Designed for SOLIDWORKS

Designed for SOLIDWORKS software, it is ideal as an entry-level 3D printing solution for creating product prototypes.
 

Easy-to-use, reliable desktop 3D printing
The MakerBot+ technology defines the standard for ease of use, quality, and reliability.
Powered by the new, user-friendly MakerBot Replicator+ 3D Printing Platform App, with cloud enabled USB or Wi-Fi connectivity, the MakerBot Replicator+ connects to MakerBot's software and wider resources to provide you with a refined, streamlined 3D printing experience so you can focus on making things better.
MakerBot Replicator+ machines feature a Smart Extruder+, motion controllers, on-board camera, diagnostics, and assisted build-plate leveling — which combine to make an easy 3D printing experience.
Fast printing with fine layer resolution
Create professional-quality, high-resolution prototypes and complex models
Get smooth-to-the-touch surfaces that don't need sanding, finishing, or post production.
Create realistic prototypes and models for demonstrations and presentations
Choose settings that range from fast draft to finer resolution

MakerBot Replicator Key Features
MakerBot Replicator+ includes the Smart Extruder+, an LCD display, and an on-board camera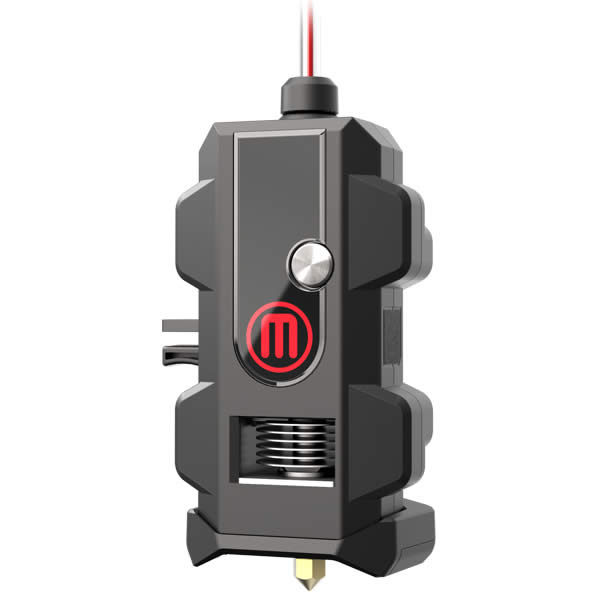 Includes Smart Extruder+
Double the warranty of its predecessor, the Smart Extruder+ is a culmination of product design and 160,000+ hours of rigorous testing that delivers dependable, consistent performance with superior results using MakerBot PLA Filament.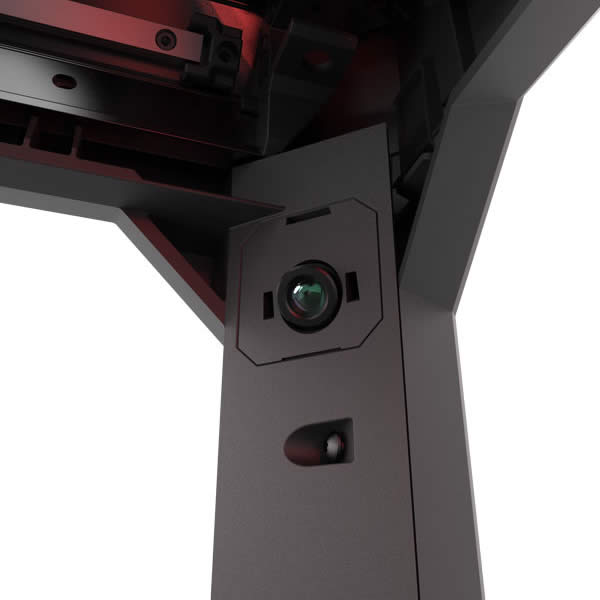 Monitoring with On-board Camera
Remotely monitor your Replicator+ print job progress using the MakerBot Print and/or MakerBot Mobile apps.
MakerBot Print software optimizes and streamlines the 3D printing process for any workflow. It allows you to discover, prepare, manage, and share 3D prints.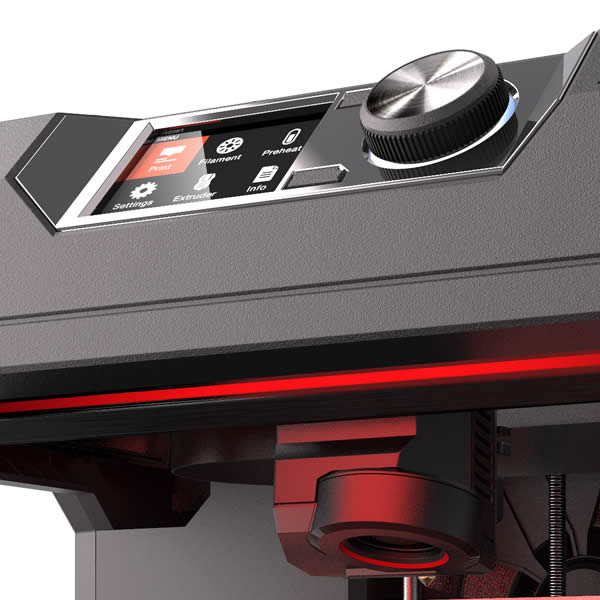 Ease of use LCD display & dial
Along with an intuitive dial, the LCD display allows you to set up and maintain your 3D printer, preview print files, and easily access your object library.

MakerBot Replicator+ Specifications
Size, weight, and software details
PRINTING
Print Technology
Fused Deposition Modeling
Build Volume
29.5 L X 19.5 W X 16.5 H CM
[11.6 X 7.6 X 6.5 IN]
9,492 Cubic Centimeters
[563 Cubic Inches]
Layer Resolution
100 microns [0.0039 IN]
Filament Diameter
1.75 mm [0.069 in]
Filament Compatibility
MakerBot PLA Filament
Large Spool,
MakerBot PLA Filament
Small Spool,
MakerBot Tough PLA Filament
Large Spool
Extruder Compatibility
Smart Extruder+,
Tough PLA Smart Extruder+
Nozzle Diameter
0.4 MM [0.015 IN]
Print File Type
.MAKERBOT
TEMPERATURE
Ambient Operating Temperature
15­-32°C [60­-90°F]
Storage Temperature
0­-38°C [32-­100°F]
SIZE & WEIGHT
Product Dimensions
52.8 L X 44.1 W X 41.0 H
[20.8 X 17.4 X 16.2 IN]
Shipping Box
61.6 L X 52.4 W X 57.9 H CM
[24.3 X 20.7 X 22.9 IN]
Product Weight
18.3 KG [40.4 LBS]
Shipping Weight
(Includes Accessory Kit)
22.8 KG [50.2 LBS]
MECHANICAL
Construction
PC ABS with Powder-Coated Steel Reinforcement,
Aluminum Casting and Extrusions for Motion Components
Build Surface
Grip Surface
Build Plate Leveling
Factory Leveled
Stepper Motors
1.8° step angle with 1/16 micro-stepping
XY Positioning Precision
11 Microns [0.0004 IN]
Z Positioning Precision
2.5 Microns [0.0001 IN]
SOFTWARE
Software Bundle
MakerBot Print Software,
MakerBot Mobile
Supported File Types
STL, OBJ
Operating Systems
Windows (7, 10)
Mac OS X (10.9+)
ELECTRICAL
Power Requirements
100-­240 V, 50-60 HZ
0.76-0.43 A
Connectivity
USB, Ethernet, Wi­fi
CAMERA
Camera resolution
640 x 480
MakerBot Benefits
Easy to use mobile ready 3D printer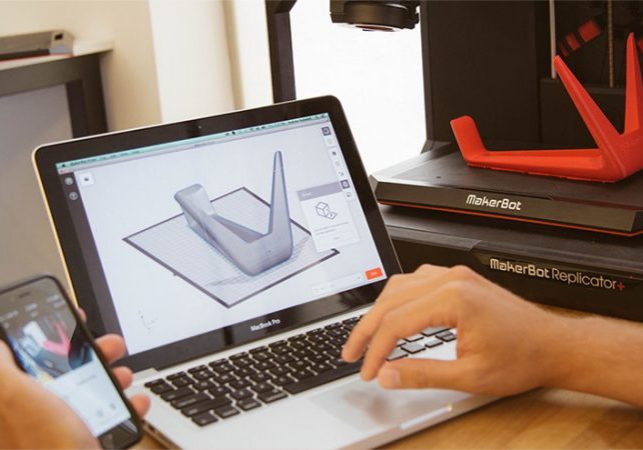 Connectivity
Send print files to your 3D printer via Wi-Fi, USB, Ethernet, or with a USB drive. Control your printer via MakerBot Print or remotely with MakerBot Mobile.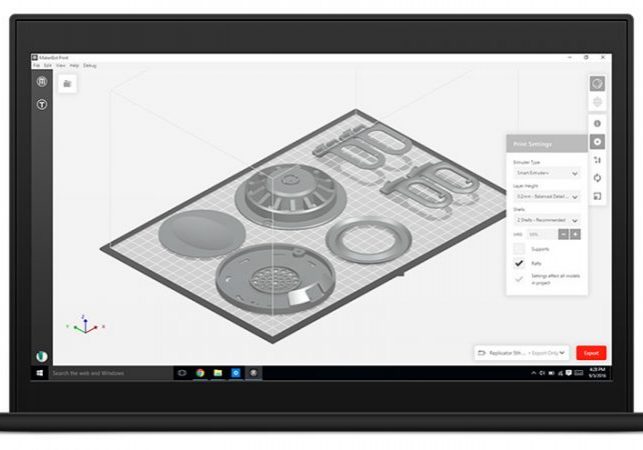 Advanced Software
Control multiple printers from MakerBot Print so you can print on multiple build plates sequentially or simultaneously. Store, organize, and access 3D design files in your personal cloud-enabled library. MakerBot Print is free downloadable software that's compatible with Mac and Windows computers.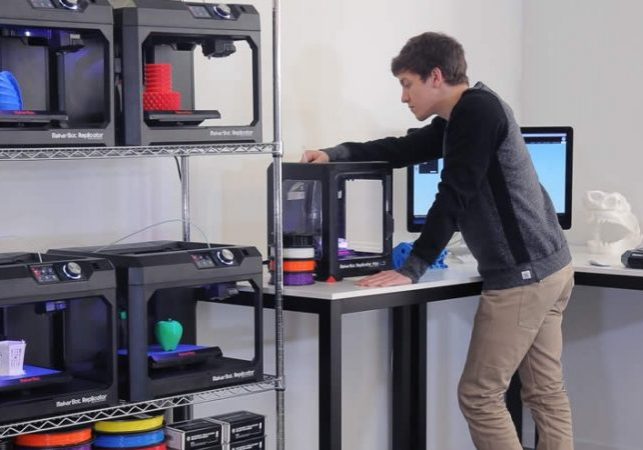 MakerCare Support
MakerBot offers comprehensive MakerCare coverage plans and responsive expertise from those who know MakerBot products best. The support site also offers both intelligent troubleshooting and in-depth product information.
MakerBot Success
Learn how designers are prototyping with MakerBot
Orbotix prototypes its smart toys with 3D printers to design more advanced parts
Hacking is a way of life at Orbotix, a manufacturer of smart toys. Just like its software team is encouraged to experiment with code, its hardware guys quickly iterate and showcase ideas during the early concept phase using MakerBot Replicator Desktop 3D Printers.
MakerBot Example Parts
Take a look at example models created with a MakerBot Replicator+
MakerCare Support
Every eligible MakerBot product includes a free trial of MakerCare for 60-days upon delivery. That consists of email and phone support with a 2-business day response time. Before your trial expires, make sure to choose a MakerCare plan.
Warranty
MakerCare Protection Plan
MakerCare Preferred Protection Plan
Features
Will replace parts if they don't work to specifications. Does not cover normal wear and tear or accidents.
The MakerBot MakerCare Protection Plan offers high-quality service and support from the people who know your MakerBot product best.
The MakerBot MakerCare Preferred Protection Plan is the fastest, most comprehensive level of support from the people who know your MakerBot product best.
Duration
6 months from delivery*
1,2 or 3 years from delivery depending on plan availability for your MakerBot product
1, 2 or 3 years from delivery
Email Support
Yes
Yes
Phone Support
Yes
Yes
Live Chat
Yes
Yes
Support Hours
Response within 3 business days

9am-6pm ET

Mon-Fri

Response within 2 business days

9am-9pm ET

Mon-Fri

Same day response before 4pm EST

9am-9pm ET

Mon-Fri
* Under our warranty, a defective MakerBot Smart Extruder+ will only be replaced during the first 90 days after the date of delivery.
** MakerBot technical support representative will schedule a time via email to call you.
Note: The first line of support is directly with MakerBot as they are the experts on their equipment and can best troubleshoot and if necessary send out replacement parts, etc. Javelin acts as the 2nd level of support in the manner that if you think you're not getting the right answers or need extra help Javelin will work with you and our contacts at MakerBot to help you get the answers you need.
Is the MakerBot Replicator+ right for you?
Call us free at  1-877-219-6757  and get your questions answered