Why Automated Post Processing?
The Additive Manufacturing Post Processing solutions from PostProcess Technologies automate the finishing of 3D parts through a comprehensive system of proprietary software, hardware and chemistry that delivers unmatched consistency, unlimited throughput and a fast ROI.
Discover their solutions in the video below:
Post Processing Problems & Requirements
As the additive manufacturing industry is now scaling, current post processing methods cannot meet the increase in volume, deliver repeatable results or the requirement for a customer-ready part finish.
Current Post Processing methods are:
Time-consuming manual labour that doesn't scale
Inconsistent results which don't meet customer-ready requirements
High breakage rates
Expensive
Capabilities
The first in the world to bring an automated and intelligent solution for the third step of additive manufacturing — post process part cleaning and surface finishing.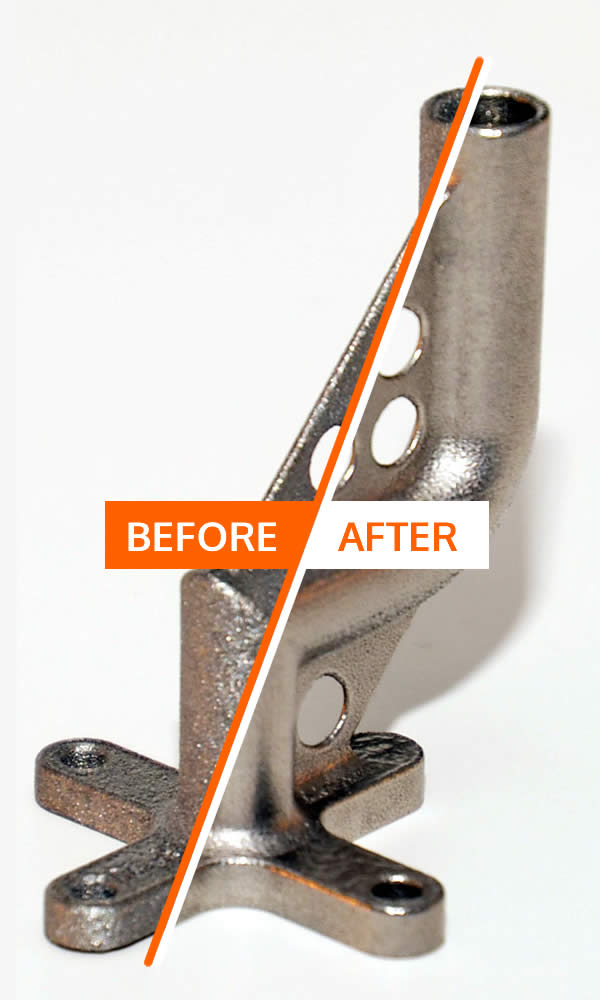 Automated Post Processing

Eliminates time-consuming and expensive piece-by-piece manual cleaning by applying a patent-pending combination of integrated technologies including software, hardware, and consumables.

Intelligent Solution

The revolutionary technology accurately interprets and interrogates each part – regardless of geometry. Reliable support removal, dependable surface finishing – producing 'customer-ready' parts, every time.

Comprehensive Solution

From desktop systems to production scale systems for support removal, surface finishing, and process water management, PostProcess are continuously innovating for the future.

Process all 3D Print Technologies

From Fused Deposition Modeling (FDM), Stereolithography (SLA), light-cured resins to superalloys – PostProcess can handle them all. It's designed and tested to work across most 3D print materials and all print technologies.

End-to-End Expertise

Expertise in the three steps – design, build, and post-print – has allowed PostProcess to develop machines and engineer precise solutions to drive faster throughput and more consistent results.

A solution for every Industry

Across every industry, from aerospace to automotive, consumer goods to dental, defense to medical; the PostProcess technology removes the post-print bottleneck with an automated approach.
Additive Manufacturing Post Processing Applications
Eco-friendly detergents and media clean and finish parts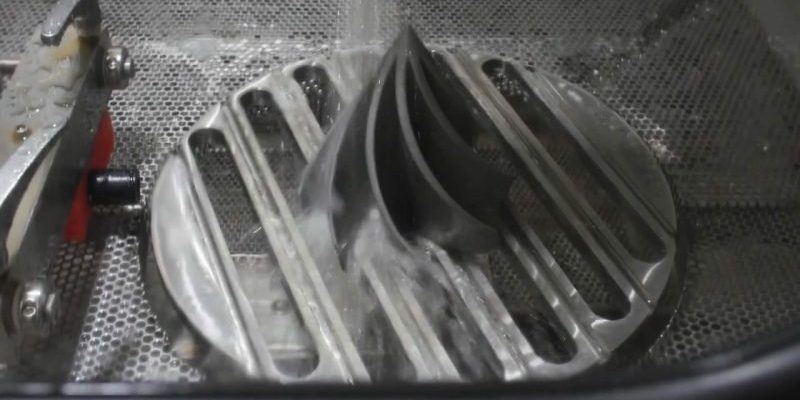 Support Material Removal
PostProcess' pre-mixed, aqueous-based detergents optimize the removal of supports while leaving the build material in perfect condition.
The POLYGONE™ (PG) chemistry line, in concert with our thoughtfully designed support removal systems, are formulated for all 3D print materials and technologies to achieve the customer's desired cycle time and end product characteristics.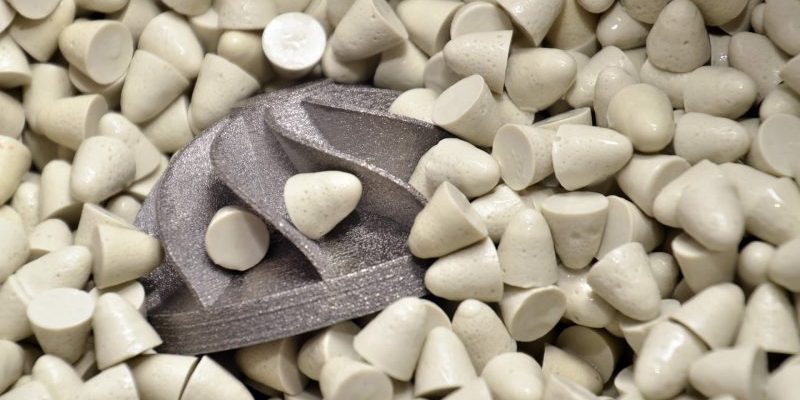 Surface Finishing
PostProcess surface finishing media, available in different density and grit, is designed to accurately deliver the correct amount of energy to produce the desired end result. With our offering of abrasive and polishing media, we can ensure the desired finish for all print materials and end product surface roughness (Ra) requirements with our suite of surface finish systems.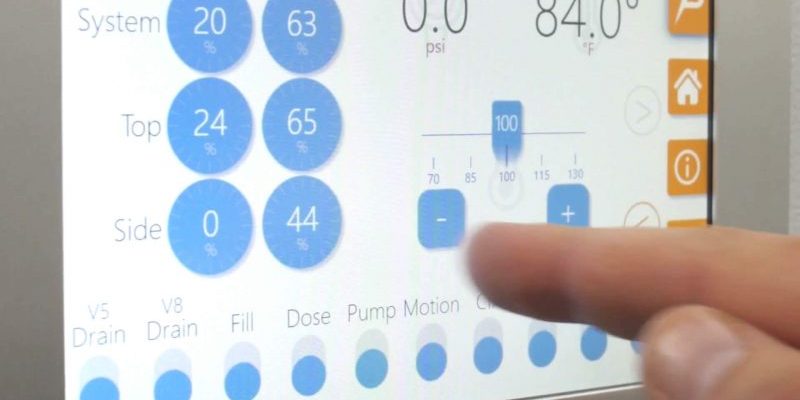 Hybrid Solutions
Tackling both support removal and surface finishing in one compact footprint, the Hybrid DECI Duo was developed to address the most complex and rugged of today's additive manufacturing materials. The exclusive media combined with patent-pending chemistries, produced at the right mixture and discharged at an exacting rate over the surface, ensures superior post print results.
PostProcess Machines
Making 3D printed parts customer ready
Support Removal Machines
PostProcess' cutting-edge solutions automate support removal using patent-pending software and exclusive chemistry technologies. The proprietary process reliably removes support materials from all 3D printed technologies while reducing cycle times and increasing productivity.
With a wide range of envelope sizes, from desktop solutions in the Design Series to industrial Production Series machines. From Submersible to Spray platforms, no matter what print material, there is a solution that fits your additive manufacturing operation.
Supports: FDM, SLA, PolyJet, CLIP, and more.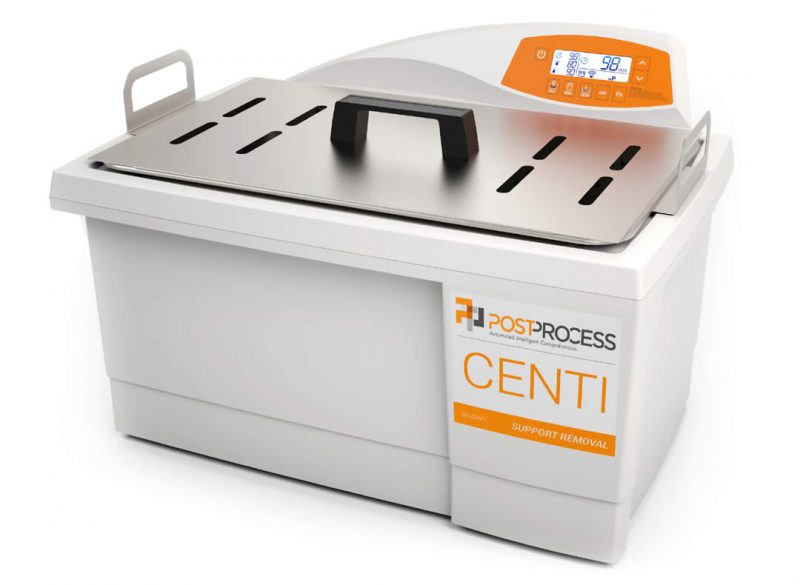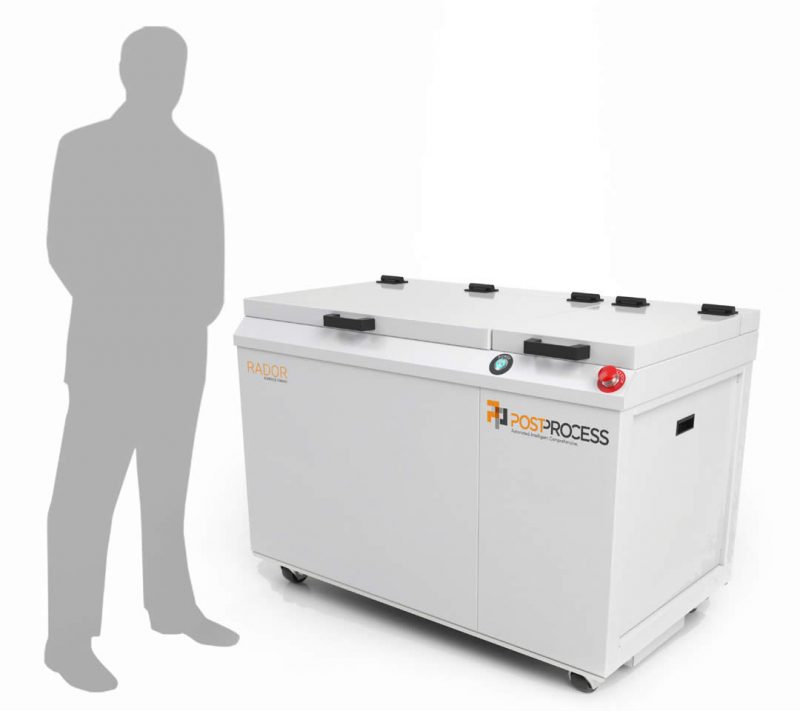 Surface Finish Machines
The suite of surface finishing solutions are automating today's manual post-printing methods. PostProcess systems ensure every printed part meets your specifications, such as desired Roughness Average (Ra) and dimensional consistency, while keeping the fine-feature detail of the 3D printed part intact.
Rectangular Systems: Vertical motion and optimized energy in a vibratory system pair with abrasive and polish media to meet the specifications for your desired Roughness Average (Ra). A divider allows for separate envelopes to run different media in each side simultaneously.
Circular Systems: Circular motion and optimized energy combine with our abrasive and polish media to deliver fast surface finish results.
Supports: FDM, SLS, SLA, CLIP, PolyJet, Muti Jet Fusion (MJF), and more.
Hybrid Systems
Replicable, high-quality uniformity for every part, every time, even with the most complex geometries. The multi-functioning, patent-pending Hybrid Series tackles both support removal and surface finish in one compact footprint.
AUTOMAT3D™ software controls the proprietary Agitation Algorithms, allowing for consistent and repeatable post-processing. Suspended solids under air and water pressure, through optimized energy, deliver fast cycle times.
Supports: FDM, SLA, SLS, Multi Jet Fusion (MJF), DMLS/Binder Jetting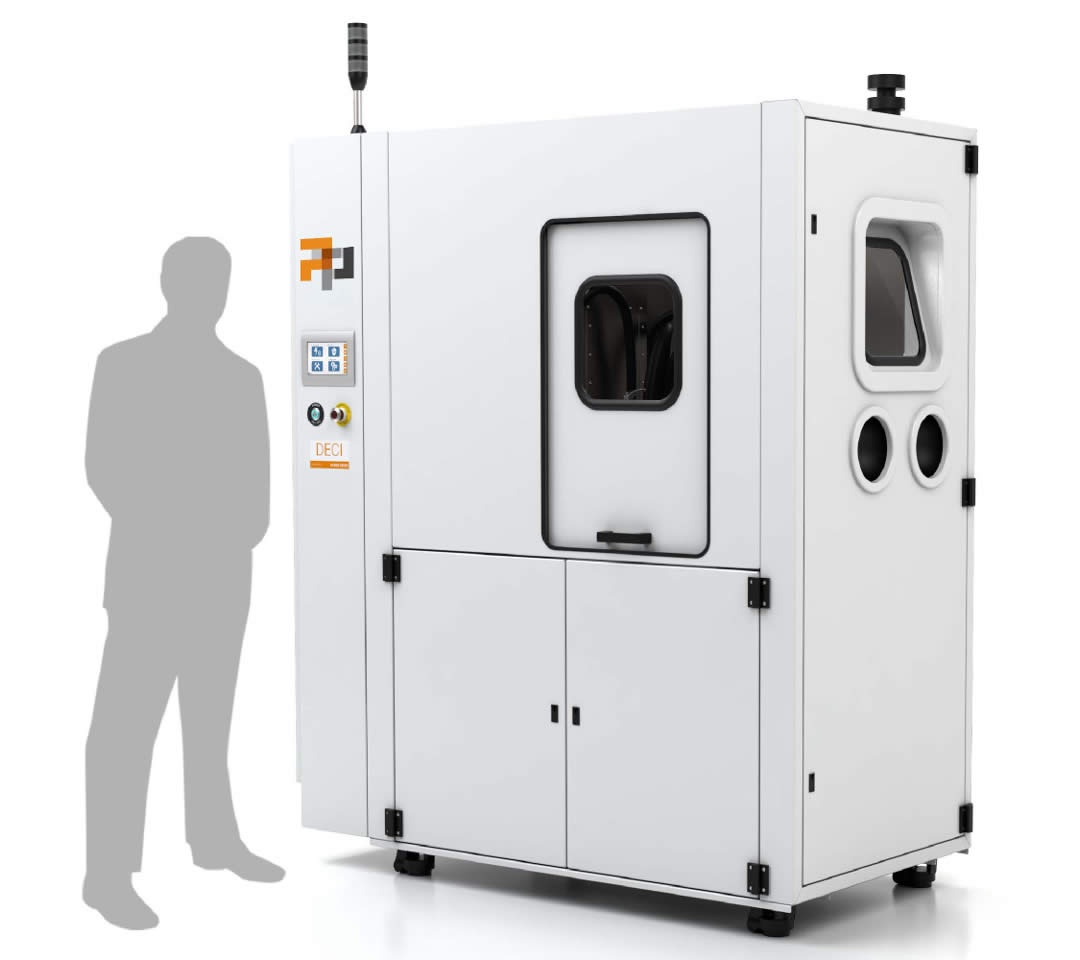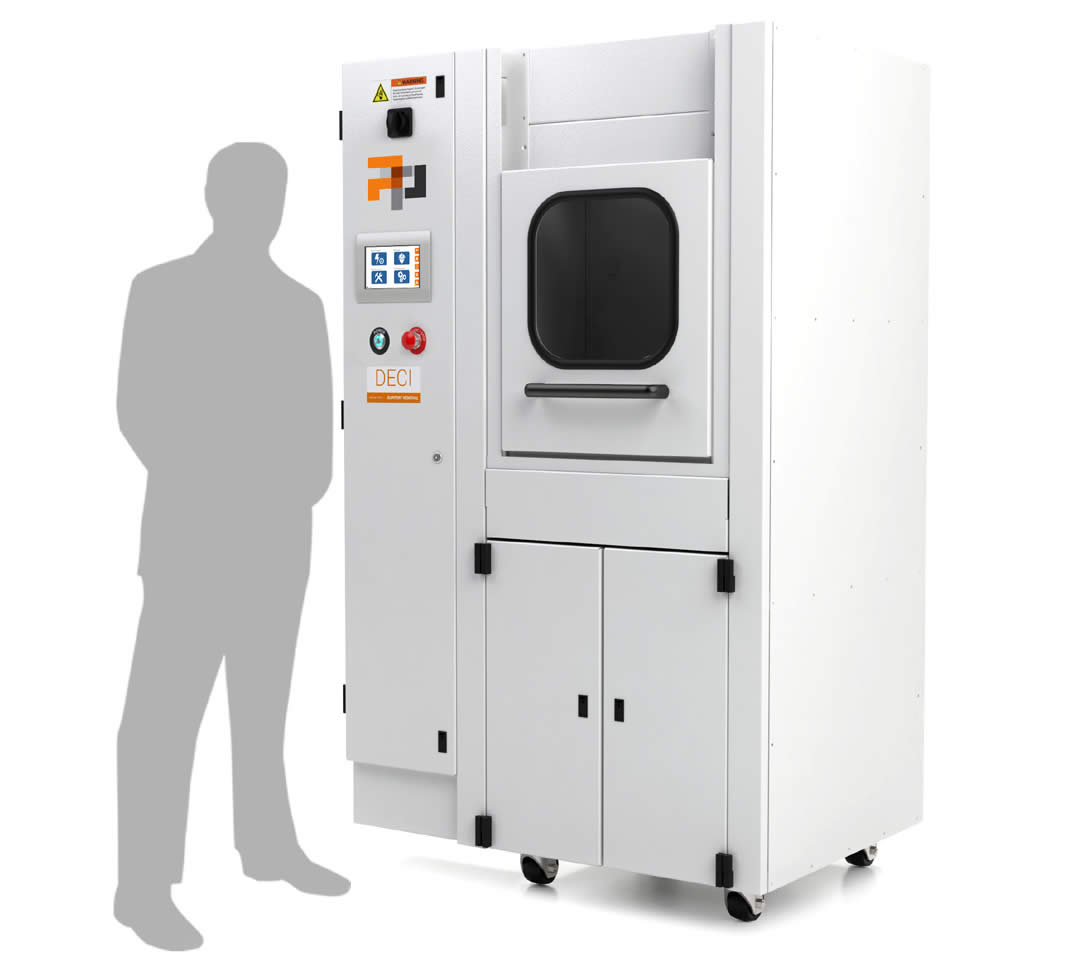 Process Water Management
Post-printing of additive manufactured parts produces micro-sized particles of media and material debris. The solution offers environmentally friendly recirculation and/or disposal of process water.
Filtering system that integrates with all Production Series solutions to transform liquid waste to solid waste. AUTOMAT3D™ software generates a continuous flow between each chamber for particle separation with carbon filtering. The output is highly filtered water for recycling to the drain or for recirculation back into the production system.
On Demand Capacity of 40 Gallons
Customer Case Study
Christie Digital increase efficiency with PostProcess machines
Christie Digital
Christie is a global visual, audio and collaboration solutions company offering diverse solutions for business, entertainment and industry. Christie employs over 1,500 people globally and has installed over 100,000 projection solutions for a variety of industries, worldwide.
Christie Digital tells their story of increased throughput and efficiency experienced with the PostProcess solution.
Need an Additive Manufacturing Post Processing solution?
Call us free at  1-877-219-6757  and get your questions answered