Increase PERFORMANCE
Make your SOLIDWORKS system run faster when loading large assemblies and drawings.
Save TIME
Learn how to leverage the latest tools and techniques for working with large assemblies.
Reduce COMPLEXITY
We can help you optimize part and assembly models so they load faster and are easier to edit.
Large Assembly PROBLEM
One of the biggest issues that SOLIDWORKS users face is wasted time when working with large assemblies and their related drawings.
Typically large assembly issues are attributed to slow hardware, network configuration, or software problems. Based on years of experience helping customers with large assembly issues we have found that adopting the latest SOLIDWORKS techniques and best practices will deliver dramatic speed improvements.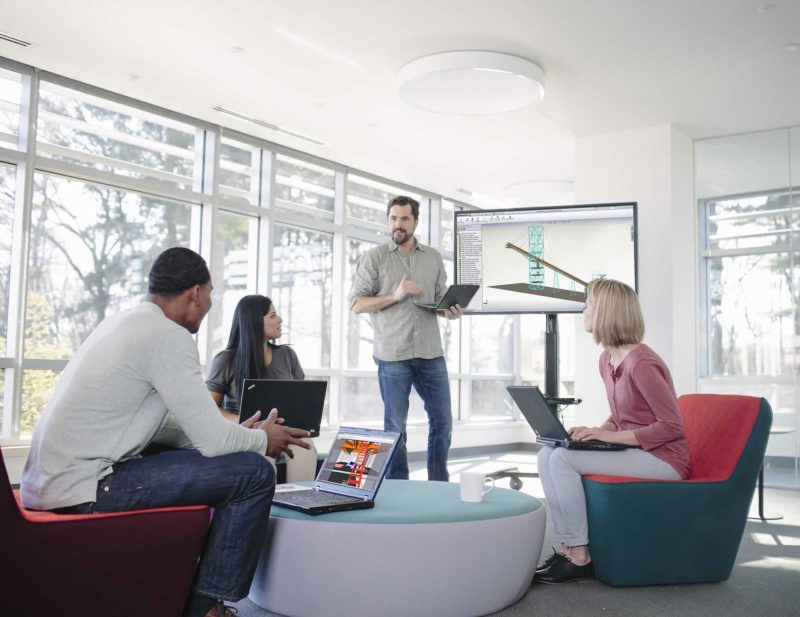 The SOLUTION
Our Large Assembly Service is customized to solve your unique SOLIDWORKS large assembly issues.
Certified SOLIDWORKS Experts will analyze your CAD models, review your system setup, and investigate how your team currently works with complex assemblies. Then provide you with the settings, techniques, and best practices to optimize your process and increase the performance of your system and your team.
Benefits from Productivity Service
How does the Productivity Service work?
An onsite service to optimize your Models, Systems, and Processes
Phase 1
ANALYZE your CAD Models
We will analyze your current model creation techniques and process to determine where changes need to be made to increase performance of your large assemblies.
The analysis we carry out includes a review of how your team creates large assemblies, and the typical composition of the models including: the number of components, the number and type of mates; the number of update holders, the type of in-context relations, the tessellation settings, current practices for feature creation and part model construction, imported geometry, plus many other factors.
Large assemblies can range from as little as 50 parts to several hundred, but if you are experiencing issues with your assemblies we will investigate!
Phase 2
OPTIMIZE your Systems
We help you to optimize your SOLIDWORKS systems so that the right options and settings are applied.
Based on the results from investigating your large assemblies, we will develop a custom solution to improve the performance of existing assemblies. Custom methods and best practices will also be identified to ensure your system is optimized for the creation of new and efficient assemblies.
We will train your team on the best practices and techniques for addressing your large assembly issues.
Training is tailored to your needs and typically includes an in-depth review of the five distinct phases that SOLIDWORKS goes through during the assembly opening process. Factors responsible for slowing down your system in each phase will be addressed. Ultimately, we ensure that every SOLIDWORKS user will be able to work with large assemblies more effectively. This will include using the latest tools and techniques available in SOLIDWORKS to ensure optimal large assembly performance.
Why use our Productivity Service?
Every week we visit customer sites to help them be more productive with SOLIDWORKS software.
As Certified SOLIDWORKS Experts we spend a lot of time learning the tools and discovering the best techniques to use SOLIDWORKS effectively. We want to help your business identify and deal with productivity issues and pass on this unique knowledge to your team.
"My productivity improved tremendously after your course, and allowed me to build more accurate, higher detail, and larger assemblies. Thank you for sharing your wisdom with me, and contributing to my success."
Lyle Myers
National Solar Observatory (NSO), Hawaii
"Javelin's systematic approach to solving our challenges has significantly decreased our SOLIDWORKS design teams load and rebuild times for large complex assemblies. Their team was great to work with. Highly recommended."
Claude Lemieux
Rock-Tech
"Existing features we already use have all kinds of abilities we never knew about.  Javelin's Instructor basically blew our minds for 3 days straight.  24% — 35% increase in speed of work."
John Cowle
Copernicus Education Products
"Content was tailored to our issues.  Having the Javelin expert help one on one with 'actual issues' at our workstations was great."
Jeff Anderson
MacLean Engineering
"Lots of new material for me even though I've been using SOLIDWORKS for 5+ years.  Large assembly tools will save a ton of time."
Kyle Groenestege
Tigercat Industries
"The Javelin Instructor was very knowledgeable and energetic!  Great examples using our jobs."
John Kinsie
Linamar
"What I liked most was going into our actual workflows and solving the day to day problems to increase productivity."
Manish Patel
Leoni Elocab Ltd.
Interested in a Large Assembly Service?
Call us free at  1-877-219-6757  and get your questions answered