OPTIMIZE Your Process
Create sheet metal designs faster and more reliably, while communicating better information to manufacturing.
Save COSTS
Ensure that the correct material, gauges, and tooling are being properly utilized in engineering.
Reduce REWORK
Ensure that sheet metal drawings are highly accurate and detailed the first time around, so they match finished parts.
Sheet Metal ISSUES
One of the biggest issues that our sheet metal customers face is a disconnect between design/engineering and manufacturing dept.
Typically this means:
Engineering/design may not be providing the right information to manufacturing.
The finished part does not match the engineering drawing, creating the need for revisions.
Costs are incurred from specifying non-standard materials, gauges, and tooling.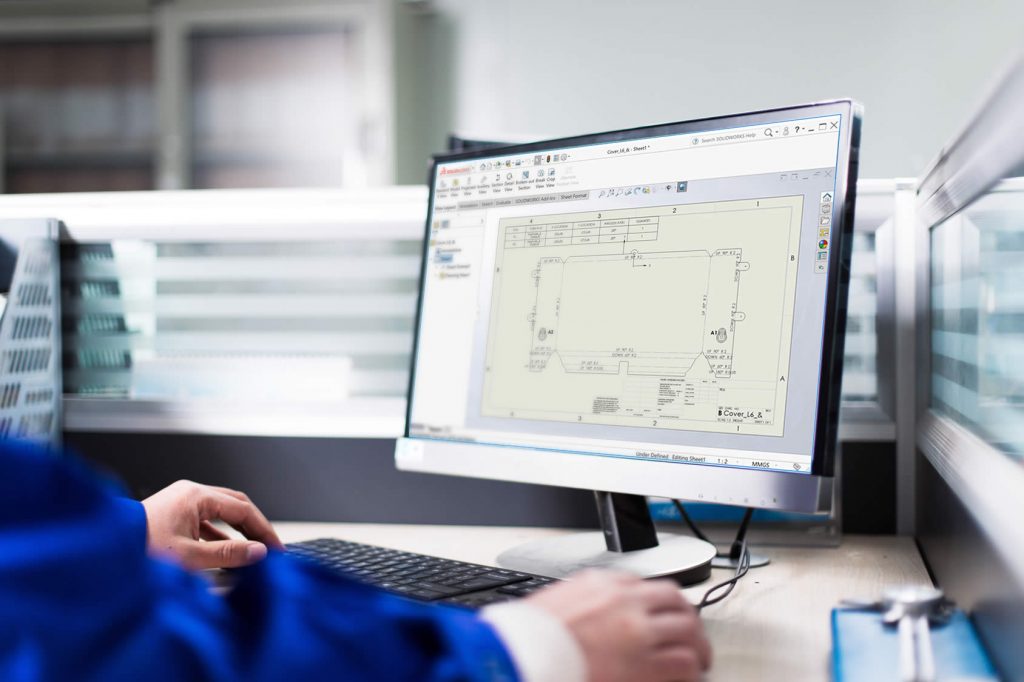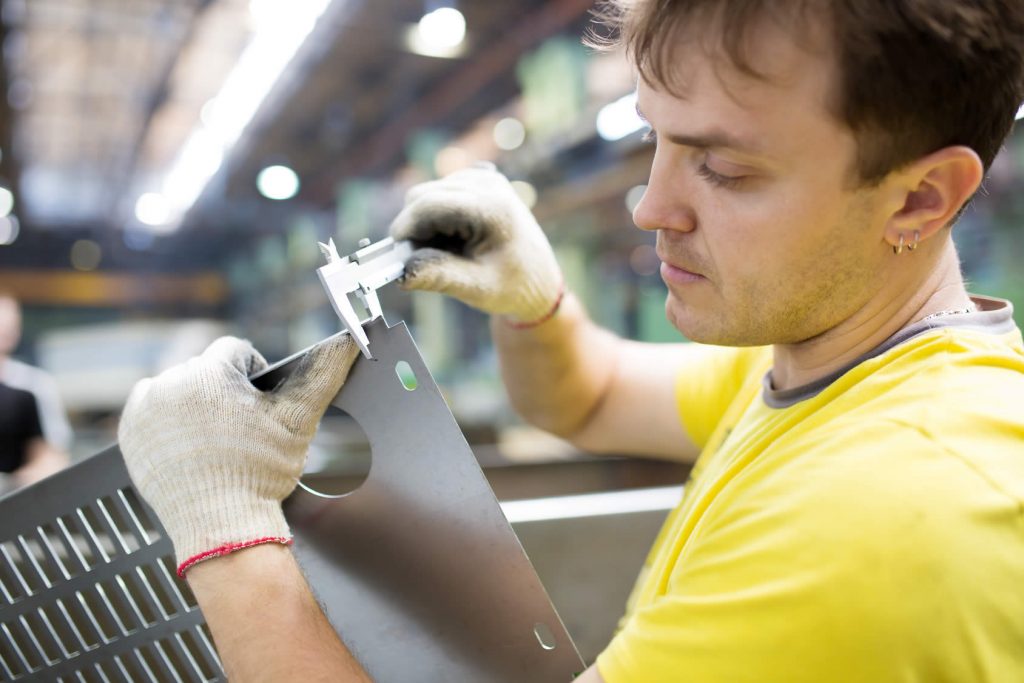 The SOLUTION
Our Sheet Metal Service is customized to solve your unique SOLIDWORKS Sheet Metal issues.
Certified SOLIDWORKS experts will analyze your current sheet metal design and manufacturing process, including your Materials, Tooling, Forming Processes, Bend Calculations and Drawing Accuracy— to define your sheet metal standards and best practices. Then train your team to adopt the new best practices and become proficient with SOLIDWORKS sheet metal.
Benefits from the Sheet Metal Service
How does the SOLIDWORKS Sheet Metal Service work?
An onsite service to optimize your sheet metal design to manufacture process
Phase 1
ANALYZE your Process
We will analyze your current sheet metal design to manufacturing process and determine where your problems occur.
This involves learning and understanding how your design team use SOLIDWORKS sheet metal tools and create production drawings.
If you fabricate sheet metal on site then this phase will also include gathering information from your CNC Programmer or Manufacturing Engineer to understand what are the most popular types of material you use, along with the gauges, dies, and forming tools used for fabrication.
Phase 2
OPTIMIZE System & MENTORING
Work with your CAD Administrator or Power-user to set-up an optimized Sheet Metal environment. So that your entire team use a consistent set of SOLIDWORKS sheet metal templates, tables, and settings.
Optimization tasks can include: 
Defining folders on the server for your sheet metal environment.
Defining Gauge, Bend and Punch Tables.
Creating the most used Forming Tools.
Creating Cut-list Table templates.
Installation and instruction on the use of #TASK sheet metal productivity tools for creating DXFs, flat pattern drawings, and more.
Phase 3
Implement Process and TRAIN your Team
We will implement your optimized process and train your team on the best practices and techniques for creating sheet metal parts and drawings. The custom training will be delivered at your office on your models.
Implementation and training is tailored to your needs but can include the following:
Create a typical part using the created gauge table
Apply forming tools that the CAD Admin created
Create a drawing using the templates and tables the CAD Admin created.
Customize the SOLIDWORKS user interface to streamline the tasks and optimize performance
Discuss with the SOLIDWORKS users about common issues and review some of their work. Show them best practices and provide solutions to their issues.
Deliver SOLIDWORKS sheet metal training.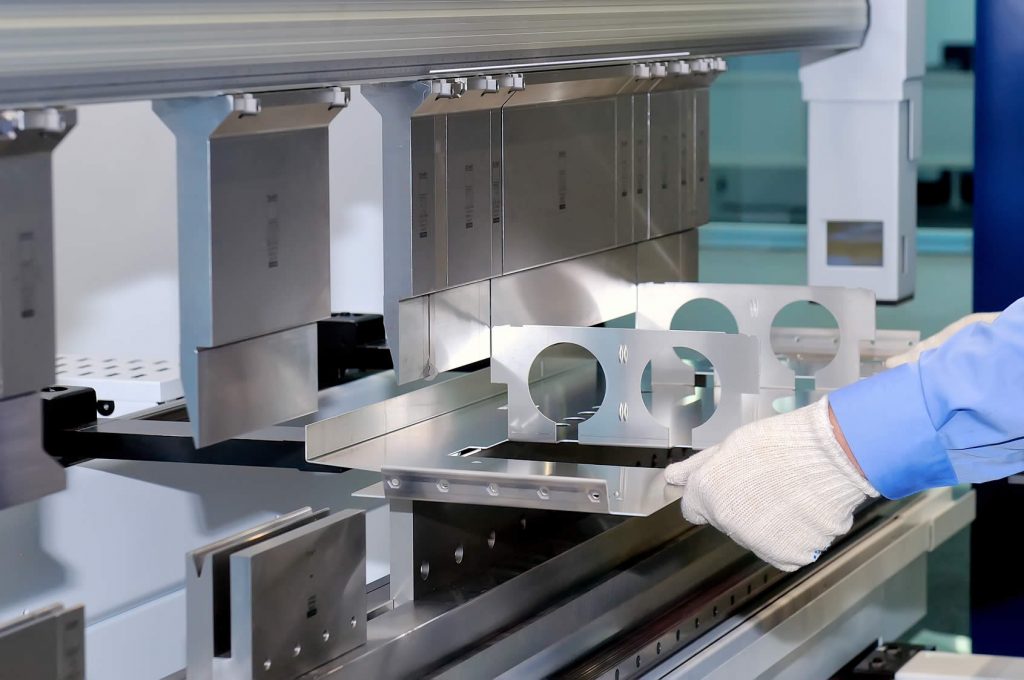 Why use our Sheet Metal Service?
Every week we visit customer sites to help them be more productive.
As Certified SOLIDWORKS Experts we spend a lot of time learning the tools and discovering the best techniques to use SOLIDWORKS effectively. We want to help your business identify and deal with sheet metal design and manufacturing issues, then pass on our techniques to your team.
"Existing features we already use have all kinds of abilities we never knew about.  Javelin's Instructor basically blew our minds for 3 days straight.  24% — 35% increase in speed of work."
John Cowle
Copernicus Education Products
"Content was tailored to our issues.  Having the Javelin expert help one on one with 'actual issues' at our workstations was great."
Jeff Anderson
MacLean Engineering
"The Javelin Instructor was very knowledgeable and energetic!  Great examples using our jobs."
John Kinsie
Linamar
"What I liked most was going into our actual workflows and solving the day to day problems to increase productivity."
Manish Patel
Leoni Elocab Ltd.
Interested in a SOLIDWORKS Sheet Metal Service?
Call us free at  1-877-219-6757  and get your questions answered