3D for the Education Industry
In today's competitive job market, professionals don't just design—they simulate, innovate, visualize,  communicate, and prototype to advance new ideas and their careers.
Javelin's Academic Solutions deliver powerful, engaging, hands-on software and 3D printers to help students and researchers understand and develop designs for the real world.
The integrated 3D software, curriculum, and lessons make design development easy to learn, easy to teach, and exciting to use.
Our 3D printing solutions help students to prototype, test, and build their product designs.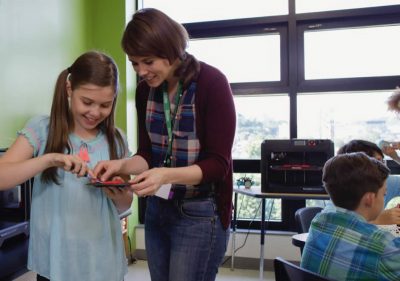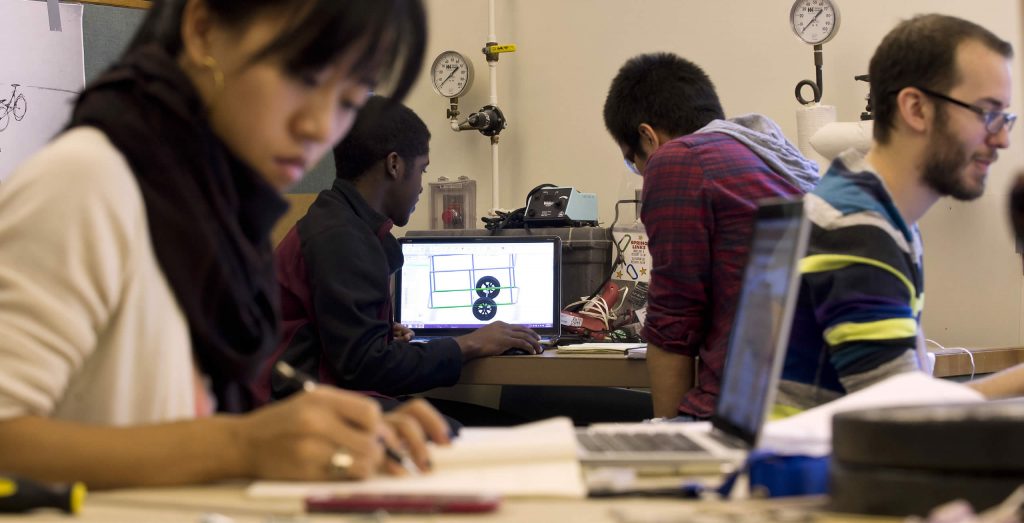 TECHNOLOGY Solution
Proven tools for Academia
Javelin provides an extensive suite of proven software and 3D printers for academics. Our software includes engineering design, mechanical and flow simulation, sustainable design, electrical, documentation, visualization—in one, integrated, easy-to-learn software package.
For Educators: Enhance student learning with SOLIDWORKS software, tailored curriculum, study aids, and 3D printing.
For Students: See how SOLIDWORKS speeds up design projects
For Researchers: Rely on SOLIDWORKS and 3D printers to accelerate discovery and new levels of performance
Canadian Educational Institutions rely on Javelin for 3D design software and 3D printing services
SOLIDWORKS Software for Academics
Which SOLIDWORKS Edition do I need?
SOLIDWORKS Research Edition
Gives researchers access to the latest SOLIDWORKS technology
There are no restrictions for use in publications, industry-funded projects, intellectual property transfer, and patent applications, and no educational watermark.
*Research Edition follows the commercial release time frame.
SOLIDWORKS Education Edition
Teaching tool for Educators & Education Establishments
Educators and students have access to the same 3D development tools used by millions of engineering and design professionals around the world.
*Only for classroom or laboratory instructional educational purposes, but not research purposes.
SOLIDWORKS Student Edition
Lets students sharpen their skills outside the classroom
Available to high school, home schooled and degree-seeking students (who can confirm enrollment in a degree-granting program or full-time enrollment in a certificate-granting program) or full-time faculty members using the software for personal learning or academic purposes.
*Commercial and institutional use is prohibited.
SOLIDWORKS Certification
Students and Educators can demonstrate their competence
SOLIDWORKS Certification lets Students and Educators demonstrate their expertise with SOLIDWORKS 3D solid modeling, design concepts, and sustainable design, and their commitment to professional development. The SOLIDWORKS Certification Program gives students a proven edge in today's competitive job market.
For Students & Educators
CSWA-Academic: Certified SOLIDWORKS Associate Academic certification for students with at least six to nine months of SOLIDWORKS experience and basic knowledge of engineering, fundamentals, and practices.
CSWP-Academic: Certified SOLIDWORKS Professional Academic successfully passes the advanced skills examination.
CSDA: Certified Sustainable Design Associate demonstrates understanding of the principles of environmental assessment and sustainable design.
CSWSA-FEA: Certified SOLIDWORKS Simulation Associate Finite Element Analysis shows a foundation in apprentice knowledge demonstrating an understanding of the principles of stress analysis and the Finite Element Method (FEM).
For Educators
SOLIDWORKS Accredited Educator Certification: SOLIDWORKS Accredited Educator certification provides educators the professional development credential demonstrating technical proficiency and skill in the classroom.
TECE: Technology Educator Competency Exam is for educators who teach using SOLIDWORKS software and demonstrate technical proficiency in classroom instruction for 3D CAD, simulation, and sustainable design.
3D Printing in the Classroom
Solutions for research, teaching, and learning
With Javelin as your education partner, students develop real-world skills aided by resources that inspire, and support that keeps you running. For us, the most exciting part of 3D printing is seeing what students make of themselves.
An Effective Way to Enrich Learning
Nothing conveys an idea better than holding it in your hand. 3D printing is an effective way to enrich learning in virtually any discipline. An excellent match for STEM curriculum projects at associate, undergraduate and graduate levels, Stratasys 3D Printers can be used with virtually all types of 3D CAD software.
Boost Student Career Opportunities
Students can boost their career opportunities by showing potential employers precision 3D models built on-site at their academic institutions. Starting their portfolios before graduation offers students the advantages of both the 3D printing know-how and the creative problem solving that are prized by great firms.
3D printing is everywhere
What does it take to attract the best students and staff in education? Offering cutting edge technology helps.
Stratasys 3D printers can be found in just about every education industry segment, including:
Research Institutes
Universities and Colleges
Technical Schools
High Schools Schools
Elementary Schools
Student Sponsorship
Get your team sponsored
Employers look for designers with SOLIDWORKS and 3D Printing skills, and want engineers who think creatively, collaborate easily, solve problems fast, and respond quickly to changes. Design contests can help students sharpen these skills, and prepare them for the workplace.
Dassault Systèmes SolidWorks Corp. and Javelin can sponsor your team and give you access to resources, like SOLIDWORKS 3D CAD, SOLIDWORKS Electrical, and SOLIDWORKS Composer. Teams sponsored by SOLIDWORKS compete in leading programs, including:
AUVSI: Association for Unmanned Vehicle Systems International
FIRST: For Inspiration and Recognition of Science and Technology. SOLIDWORKS will sponsor any FIRST Robotics Regional Competition team. Read about our sponsorship of Canadian teams.
Formula SAE/Formula Student: Collegiate automotive competitions
MATE ROV: Marine Advanced Technology Education—mission is to use marine technology to create interest in and improve STEM education.
Education Resources
Learn more about our solutions for the Academic industry
Need an Academic Solution?
Contact us to learn how we can help your education