Capture your 3D data
Creating 3D scanning masterpieces requires smart and powerful software to capture, process, analyze and edit data. Now anyone can achieve professional results with the most comprehensive and straightforward 3D scanning software on the market today.
How does it work?
Whether you are new to 3D scanning and require step-by-step guidance in 3D data processing, or are an experienced user looking to speed up your workflow, Artec Studio's breakthrough automated processing features set a new horizon in 3D scanning.
Artec Studio also features a full range of tools for you to process your 3D model manually, giving you full control over your data.
Capabilities
Making accurate 3D models has never been easier
An advanced smart mode which guides users through post-processing in a few easy steps, automatically selecting the most effective settings for your data and producing a high precision 3D model.
Whether you choose Autopilot or manual mode, Artec Studio never compromises on precision.
Artec Studio features a full range of advanced settings giving experienced users full control and flexibility.
Artec Studio 13 features direct export to Design X and SOLIDWORKS, making the scan to CAD process even easier.
Artec Studio's best in class texture and geometry tracking means you don't need to put targets on your object. Just point and shoot!
Powerful algorithms that process your data in seconds. Automated features to save you time.
Artec Studio features the most advanced algorithms for capturing hard-to-scan surfaces such as hair or shiny, black objects.
Scan and process your data all on a tablet! Add to this the Artec battery pack and you have a fully mobile 3D scanning solution!
Artec Studio features a full range of advanced settings giving experienced users full control and flexibility.
Lifetime or Yearly Subscription?
Choose the right version for your scanning needs
Lifetime License
One-time payment for lifetime Artec Studio 17 only access.
Includes any updates to Artec Studio 17.
Excludes updates to subsequent versions.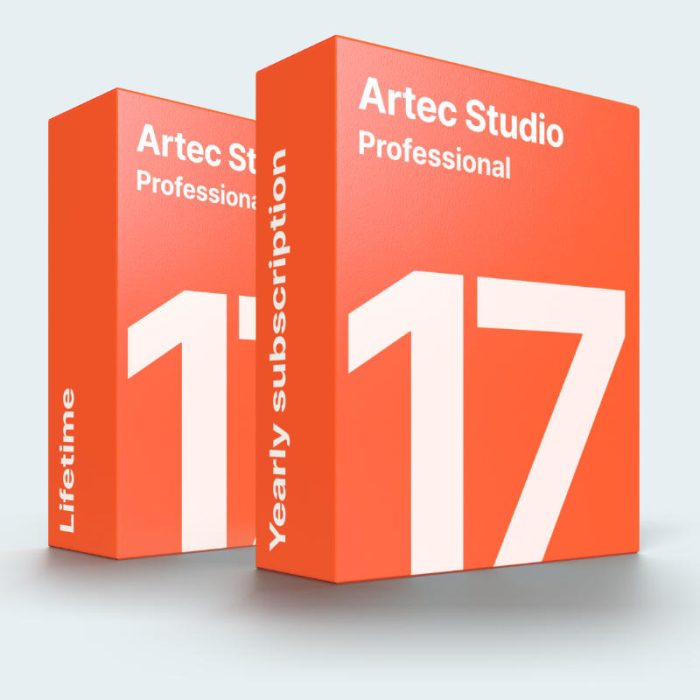 Yearly Subscription
Always have the latest version of Artec 3D's advanced scanning, processing, and editing software.
Major software updates released yearly, including new features and improved algorithms.
Specifications
Features included in the Ultimate and Professional versions
ADVANCED PROCESSING
Global registration
Smart memory management for smoother processing
Auto texture correction
Texture mapping
Texture healing brush
Expanded eraser options
FAST, AUTOMATIC PROCESSING FEATURES
Autopilot: A-Z automatic post-processing pipeline
Smart base removal — deletes even curved surfaces and all data beneath the base
Auto-align your scans — Texture + Geometry based 95% of scan data sets can be auto-aligned
Fast mesh simplification
EASY SCANNING
Scan black, shiny, fine objects — Automated sensitivity for easy scanning and best results when using Artec Eva
Eva maximum FPS boosted
Fullscreen scanning mode
Real-time fusion: object size
Real-time fusion: tracking
Real-time fusion: improved visualization for easier scanning
Texture and geometry tracking
Tracking Alignment Correction
3rd party sensor support — Ultimate Edition: Microsotf Kinect V1 & V2, ASUS XTion, PrimeSense Carmine, Intel RealSense F200 (IVCAM), R200 (DS4) & SR300, XYZprinting 3D scanner
Scanning on MacOS
MEASUREMENT TOOLS
Measurement tools: Linear, geodesic, sections, distance maps, volume, annotations, CSV, DXF, XML export
Export mesh square and mesh volume
ERGONOMICS
3Dconnexion 3D mouse compatibility
Glossy 3D model rendering: shows full detail of scans
Full visualization on rotation
New UI design
Optimized color settings
New background
Hints and hotkeys
Progress bar in Windows Taskbar
PROJECT COMPRESSION TOOLS
DIRECT SCAN TO CAD
Direct export to Design X
Direct export to SOLIDWORKS
EXPORT FORMATS
Full range of export 3D formats: OBJ, PLY, WRL, STL, AOP, ASCII, Disney PTEX, E57, XYZRGB
MOBILITY: TABLET COMPATIBILITY
UI adapted for tablet use
Full functionality and support for MicrosoFT Surface Pro 4 tablet
VIDEO CARD COMPATIBILITY
NVIDIA Quadro
NVIDIA GeForce 400 Series or higher
AMD
Intel Series 4600 and higher
Direct scan to CAD
Artec Studio has been successfully integrated with indispensable tools for engineers, product developers and designers to provide them the fastest and smoothest path from 3D scan to CAD.
Now you can export your 3D model to 3D Systems Design X in just one click. And by installing either the Dezign-Works or Geomagic plugin on your computer, there's nothing simpler than landing your 3D model in SOLIDWORKS, – just press the "Export to SOLIDWORKS" button in Artec Studio for a fast, seamless workflow.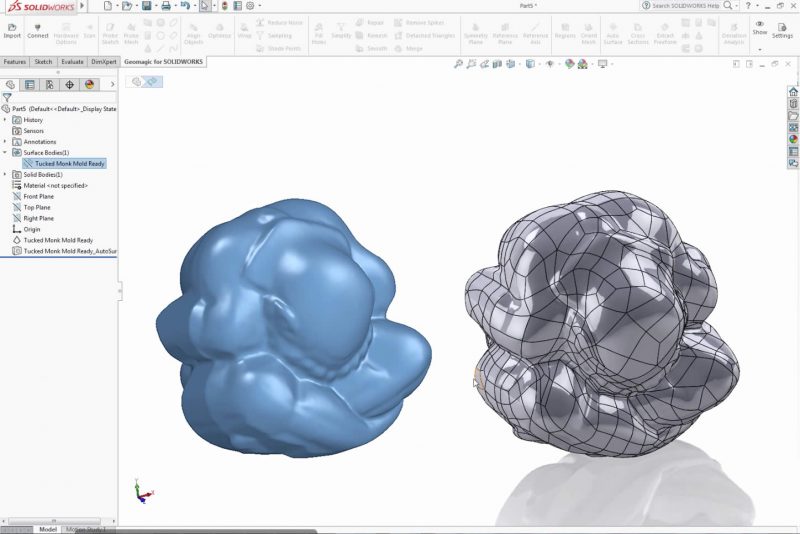 "Autopilot: very user-friendly and easy!"
Teddy Larsson
AK Innovative CAD&CAM Solutions
"The Autopilot tool is amazing. I actually got better data on a difficult part processing through the auto-tool than through manual processing!"
Kevin Shain
Laser Design, 3D scanning systems and 3D measurement services
"Many of my clients need things within a very tight time-frame. I have found real-time fusion to be a godsend when I need to make sure everything is covered before the subject needs to be returned."
Cameron Berry, 3D scanning specialist
Ink Digital
3D Scanning Workflows
3 different ways Artec Studio can make a 3D model of your object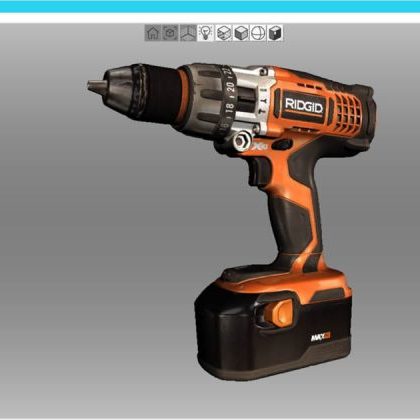 WORKFLOW 1
Autopilot
For highly accurate results in a few easy, automated steps.
Scan your object and then enter Autopilot to process all your data automatically.
Perfect for beginners to achieve professional, high precision results. A great time saver for advanced users.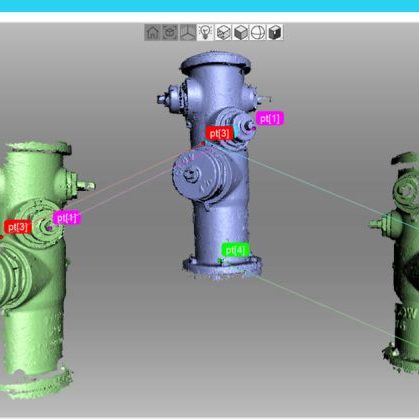 WORKFLOW 2
Manual Mode
For highly accurate results, with full control and flexibility during the process.
Scan your object and choose the post processing settings yourself.
Advanced users have a full range of powerful tools to manipulate their 3D data exactly as they like.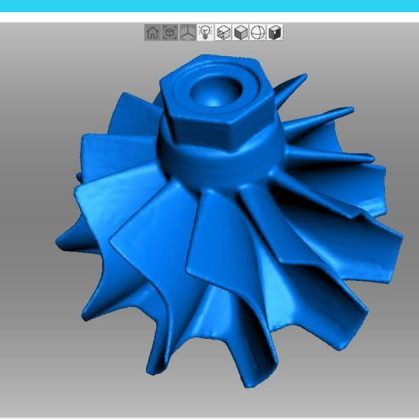 WORKFLOW 3
Build as you scan
For instant results, with no post-processing
Build your 3D model as you scan. Using Real-Time Fusion scanning mode, move the scanner around the object and see your model developing as you go.
Ideal for making 3D copies of simple objects, such as the human body, or for getting a quick preview.
Interested in Artec Studio software?
Call us free at  1-877-219-6757  and get your questions answered