Javelin-Cimetrix and partners provide injection molding design and production of high-quality plastic parts. Our injection molding service partner is backed by decades of manufacturing experience and a tireless team of project managers ready to assist you every step of the way.
Learn more about the Injection Molding services available:
Injection Molding Offerings
Assisting you in the creation of high-quality plastic parts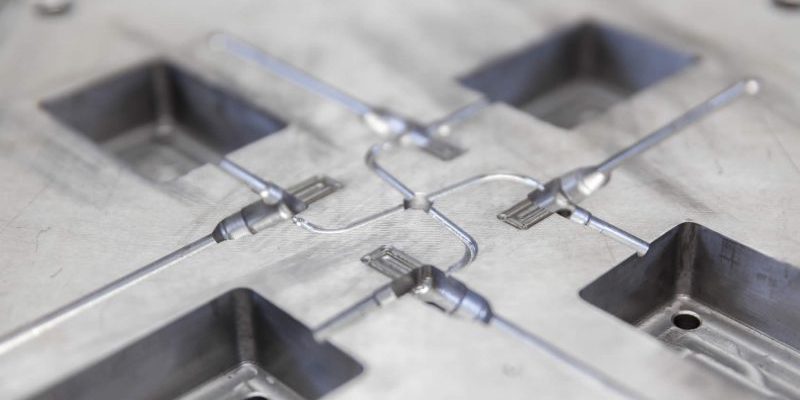 Rapid Part Delivery
Need low-volume parts quickly? Depending on your project requirements our partner has Fast Track injection molding which can deliver parts in as little as ten days.
Our partner employ offshore production with US-based project management and quality assurance for efficient, cost-effective tooling and injection molding operations.
Access cutting-edge tooling manufacturing facilities, including high-speed CNC machines, EDM machines and press sizes up to 800 tons.
These precise tooling operations complement state-of-the-art injection molding capabilities.
For new design verification utilizing our prototyping to production services in our state of the art facilities, we aim to provide end to end product development life cycle solutions.
Injection molding is an ideal alternative to 3D printing for parts at a better cost per piece and in materials not available in 3D printing.
Injection Molding Materials »
Injection Molding Materials
As you consider your options for low-volume injection molding, talk to our experts. We can work with any production plastic material your project requires, but the most common options are listed below.
Material
Description
Benefits
Applications
ABS
Common thermoplastic with good impact resistance and toughness.

Good impact resistance with toughness and rigidity
Metal coatings have excellent adhesion to ABS
Excellent processability and appearance

Computer housings
Musical instruments (recorders & plastic clarinets)
Telecom devices
Small appliances (enclosures)
Automotive (interior trim, wheel covers, emblems)
Medical components

Polypropylene
Thermoplastic polymer used for a wide number of applications.

Excellent moisture resistance
Food grades available
Mold–in hinge possible
Good impact strength

Packaging
Industrial components for fluid processing
Household goods
Automotive
Electrical hardware


Polyoxymethylene (POM)

Dimensionally stable thermoplastic with high stiffness and low friction.

High tensile strength with rigidity and toughness
Good impact and solvent resistance
Glossy molded surface
Low static and dynamic coefficients of friction (slippery)
Many grades have FDA and NSF approvals on food and water contact
Replace die-cast metal components

Mechanical automotive
Business machines
Household appliance
Gears
Bushings
Door handles
Seat belt parts


Polycarbonate

Thermoplastic material with good temperature resistance and impact strength.

High impact resistance
Clarity
Dimensional stability
Chemical resistance (PC blends)

Automotive headlights
Business machines
Consumer products
Telecommunications
Medical products
Mechanical goods


Polycarbonate / ABS

Blend of PC and ABS that creates strong parts for a variety of applications.

Good impact resistance with toughness and rigidity
Metal coatings have excellent adhesion to ABS
Very good indoor UV light color stability
Excellent processability and appearance

Automotive exterior and interior components
Medical hardware
Electrical housings
Computers
Monitors
Business equipment housings
Enclosures


PVC

PVC is a polymer with good insulation properties, high hardness, and good mechanical properties.

Wide range of flexibility
Flame retardant
Dimensional stability
Low cost

Medical/healthcare products
Automotive applications
Household items
Electronic extruded wire covering


Nylon

Polymer material that is durable with high elongation and good abrasion resistance.

Temperature capability 600°-700° for short term
Excellent chemical resistance
High resistance to abrasion
Tough and withstands repeated impact

Automotive components
Bearings
Electronic connectors
Gears
Consumer products
Industrial products


Nylon 32% Glass Fiber

Polymer with excellent mechanical stiffness and elevated temperature resistance.
-
-

Acrylic (PMMA)

Material with resistance to breakage often used for transparent applications.

Excellent optical clarity
Excellent weatherability and resistance to sunlight
Rigid with good impact resistance
Good light transmission

Automotive transparent items such as head/tail lenses and trim
Household light fixtures and decorative items
Safety equipment and shields


Polystyrene

Light weight material popular for its high impact strength and toughness.

Optical clarity
High gloss
FDA grades available
Low cost
Good dimensional stability
Good rigidity

Household goods
Containers
Furniture
Housings
Packaging


Polyetherimide (PEI)

Thermoplastic with high heat resistance and excellent mechanical properties.

High heat resistance
Exceptional strength and impact modulus
High dielectric strength
Broad chemical resistance
Biocompatible
Excellent machinability and finishing characteristic
Outstanding processability on conventional molding equipment
Flame resistance with low smoke evolution

Commercial aircraft interiors
Healthcare products
Cooking utensils
Fiber optics
Electrical products
Electronic parts
Injection Molding Resources
Learn more about Plastic Part Production
Case Study / Javelin Case Study
Interested in our Injection Molding Services?
Call us free at 1-800-298-6437 and get your questions answered