Take a look at the MakerBot METHOD
Performance 3D Printing
A 3D Printer designed for Business
MakerBot METHOD for Business is tailored to the needs of fast-paced and demanding organizations looking to eliminate the cost of downtime and prevent missed deadlines.
Developed from the ground up leveraging industry-leading Stratasys® patents including a heated build chamber, precision dissolvable supports, and dry-sealed material bays.
Why MakerBot METHOD?
Faster and more precise printing than ever before with business features you need:
21 Onboard Sensors

A network of 21 intelligent sensors embedded throughout the printer gives you full control while making material and print management easy and accessible.

Wireless Printing & Monitoring

Away from the office? Remotely print, monitor, and control your printer from anywhere in the world.

5 inch Colour Touchscreen

Swipe, tap, print. With the built-in 5" full-color capacitive touchscreen display, receive up-to-the-second status of your current print job and navigate menus in the most intuitive way you already know—with your finger.

25 CAD File Types

With over 25 supported native CAD file types, you can focus on your next design sprint rather than messy plugins and conversions.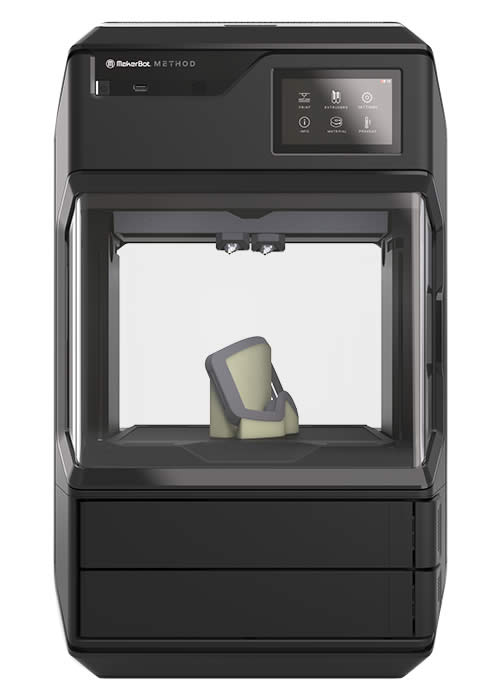 Uncompromised layer adhesion and part strength
Circulating Heated Chamber
Control the temperature and quality of every layer - not just the first. While heated build plates are effective at reducing warping, Method takes this further with full active heat immersion during the entire duration of the print.
Match Design Dimensions
METHOD offers consistent print results with a dimensional accuracy of ±0.2mm
ELECTRIC MOTOR HOUSING
FUNCTIONAL PART TESTING
TECH SPECS

MODEL MATERIAL: MakerBot Tough
SUPPORT MATERIAL: MakerBot Water-Soluble PVA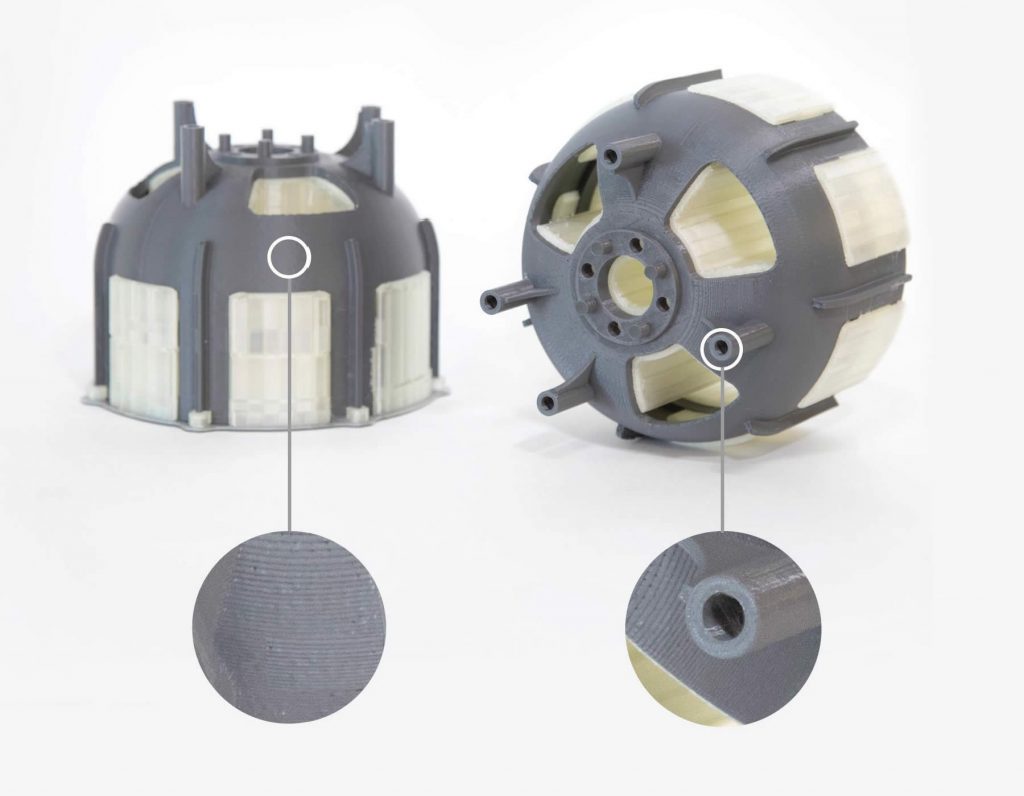 MODULAR SKI GOGGLES
ACCELERATED CONCEPT DESIGN
TECH SPECS

MODEL MATERIAL: MakerBot Tough
SUPPORT MATERIAL: MakerBot Water-Soluble PVA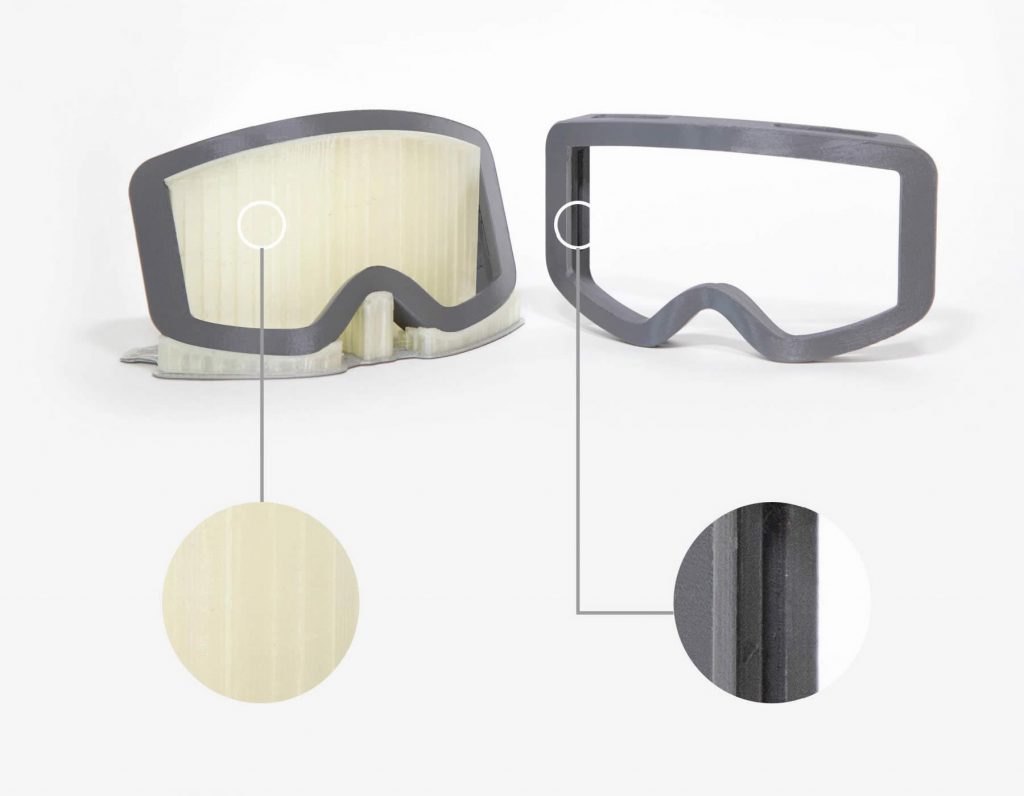 UNRESTRICTED GEOMETRIC FREEDOM
Disolvable Support System
Superior surface finish and unrestricted geometric freedom are paramount to delivering high quality printed parts.
MakerBot Water-Soluble PVA ensures fast and effortless support removal without compromising part design or dimensional accuracy.
MakerBot Water-Soluble PVA provides two key benefits:
Unrestricted geometric freedom (large overhangs, cavities, etc.)
Superior print quality and surface finish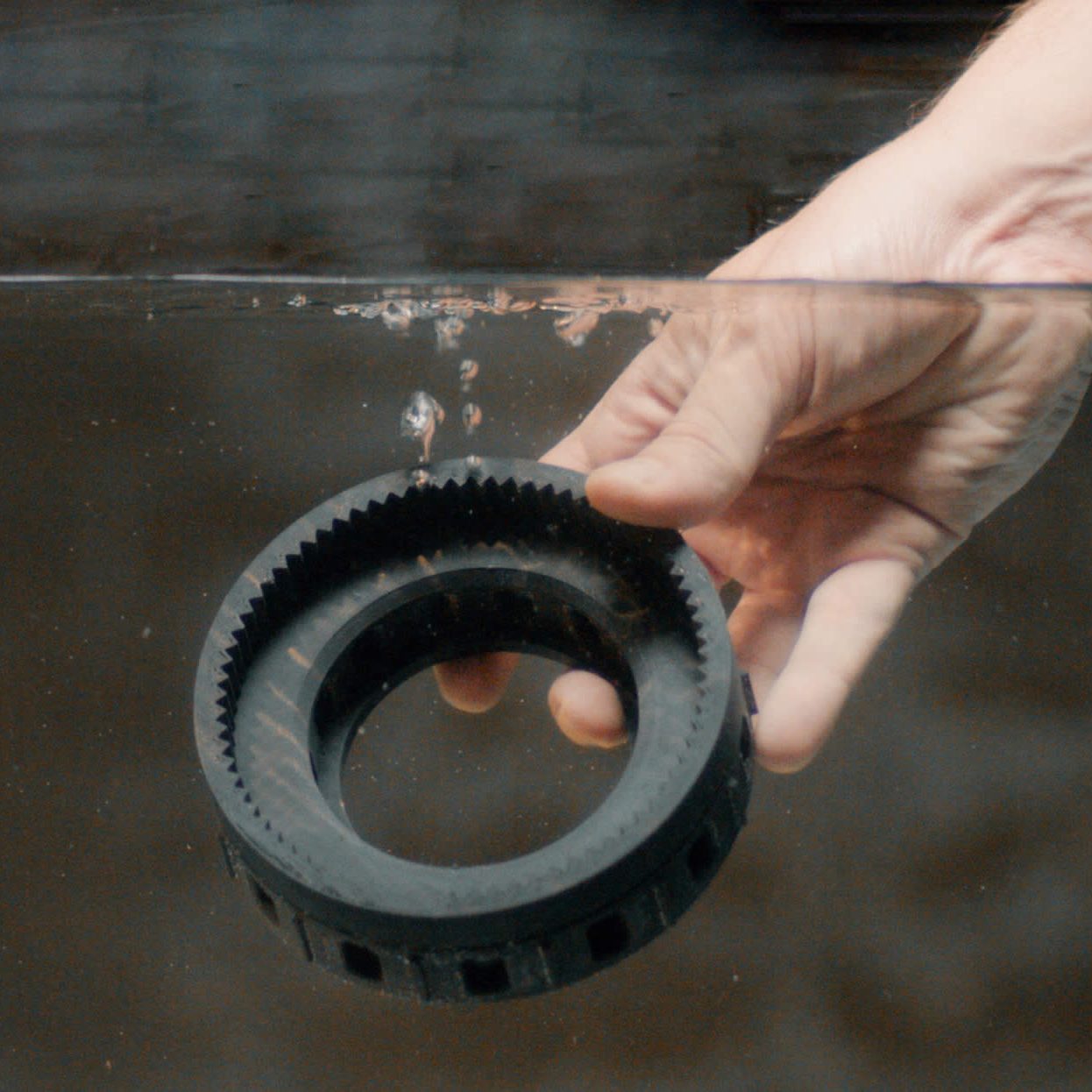 MakerBot METHOD Key Features
Includes dual extruders and a rigid frame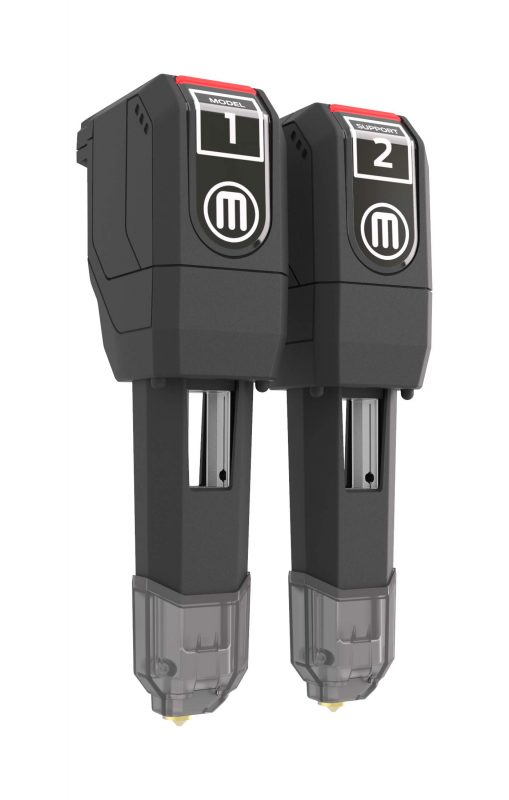 Dual Performace Extruders
Featuring lengthened thermal cores, optimized torque, and an industry-leading sensor suite. Performance Extruders maximize material flow rate at high speeds while providing consistent and reliable extrusion across every layer.
Ultra-rigid Construction
A structurally-optimized metal frame runs the full length of the body to offset flexing. Less flexing means more consistent prints with better part accuracy and fewer failures.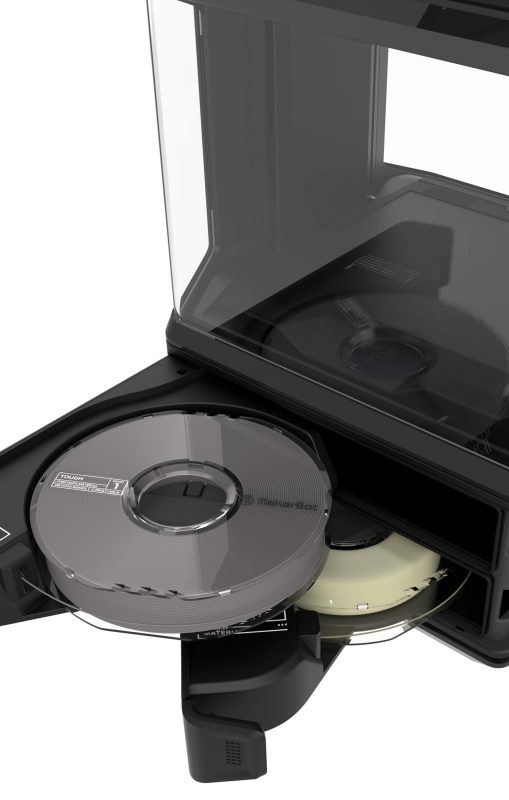 Optimized Material Storage
Dry-Sealed Material Bays form a near-perfect seal to keep material free of damaging humidity. A suite of built-in sensors provides that your material is stored in its optimal environment—a feature previously only available in industrial 3D printers.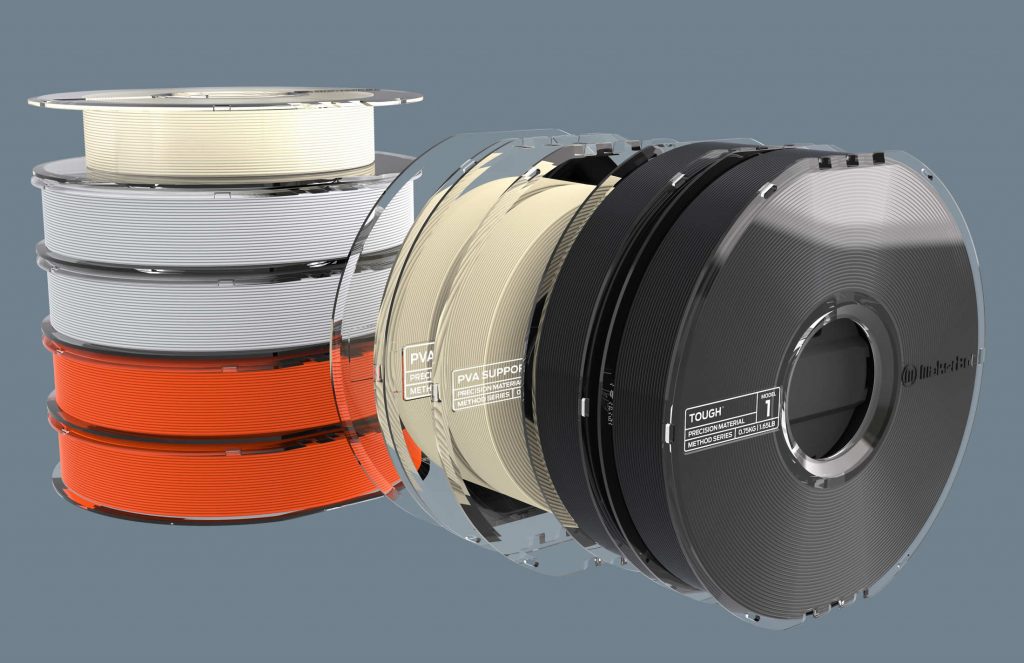 PUSH THE LIMITS OF WHAT'S POSSIBLE
MakerBot Materials for Method
PRECISION MATERIALS
Extensively tested by MakerBot for the highest reliability and measurably accurate parts.
SPECIALTY MATERIALS
For users looking for special materials with advanced properties to push the limits of what's possible.
SMART MATERIALS
MakerBot Materials for Method are manufactured to exacting diameter and quality specifications and shipped in a vacuum sealed Mylar bag to preserve quality right up until opening. The new Smart Spool system sends all of your material information including colour and amount remaining wirelessly to MakerBot Print for up-to-the-second material management.
Available Colours and Materials
MakerBot Precision Tough
Print high-strength, durable prototypes and fixtures with up to 2X the impact strength of ABS.
MakerBot Tough is a styrene-free, office-friendly alternative to ABS works with water-soluble supports which are easy to handle in an office environment.
MakerBot Precision PLA
Easy to use and ideal for early-stage concept development, design details including sharp corners and edges print flawlessly with virtually no warping or curling.
MakerBot Precision PVA
Precision Dissolving PVA ensures fast and effortless support removal for your most complex prints.
MakerBot PETG
High-strength and durability combine with chemical and moisture resistance to offer excellent mechanical properties.
MakerBot METHOD Specifications
Size, weight, and software details
PRINTING
Print Technology
Fused Deposition Modeling
Build Volume
19 L x 19 W x 19.6 H cm / 7.5 x 7.5 x 7.75 in single extrusion
15.2 L x 19 W x 19.6 H cm / 6.0 x 7.5 x 7.75 in dual extrusion
Build Speed
Up to 2x faster than desktop 3D printers

Max Material Flow Rate: ~50 mm per sec

Print Head Travel Speed: Up to 500 mm per sec
Layer Resolution
Range: 20 - 400 microns
Material
MakerBot Precision Materials: PLA, Tough, PVA
MakerBot Specialty Materials: PETG, more to come
Extruder Core Length
48.2 mm
Nozzle Diameter
0.4 MM [0.015 IN]
Print File Type
.MAKERBOT
SIZE & WEIGHT
Product Dimensions
43.7 L x 41.3 W x 64.9 H cm /
17.2 x 16.3 x 25.6 in
Product Weight
29.5 kg / 65 lbs
Shipping Box
76.5 H x 50.0 W x 55.5 D cm /
30.1 x 19.7 x 21.9 in
What ships in the box?
1 MakerBot Method Performance 3D Printer
1 Tough spool 1.65lb
1 PVA spool 1.0lb
1 Spring Steel Build Plate (with 1 sheet of Build Tak)
1 Nozzle Cleaning Brush
Shipping Weight
37.1 kg / 81.7 lbs
MECHANICAL
Construction
Aluminum Die Cast Base
Extruded Aluminum Uprights
Steel Weldment Gantry Frame
Build Surface
Reusable Grip Surface
Build Plate
Flexible Steel Build Plate
Temperature Control
Circulating Heated Chamber
SOFTWARE
MakerBot Print, MakerBot Mobile
Supported File Types
MakerBot (.makerbot)

STL (.stl)

SOLIDWORKS (.sldprt, .sldasm)

InventorOBJ (.ipt, .iam)

IGES (.iges, .igs) & 

STEP AP203/214 (.step, .stp)

CATIA (.CATPart, .CATProduct), Wavefront Object (.obj)

Unigraphics/NX (.prt)

Solid Edge (.par, .asm)

ProE/Creo (.prt, .asm)

VRML (.wrl) & Parasolid (.x_t, .x_b)
Operating Systems
Windows (7, 10)
Mac OS X (10.9+)
ELECTRICAL
Power Requirements
100 - 240 V
4A, 50 - 60 Hz
400 W max.
Connectivity
USB Drive, USB, Ethernet, Wi­Fi
Warranty
Free 1-Year Extended Warranty (includes 6 months of standard warranty and 6 months of free extended warranty – $950 value)
Support Plans
MakerCare Gold (2 Years)
MakerCare Platinum (3 Years)
MakerBot Cost Per Part
Learn about the cost of prototyping with MakerBot METHOD
SERVICE
BUREAU
ENTRY-LEVEL
INDUSTRIAL 3D PRINTER
MAKERBOT
METHOD

$252


Cost Per Part + Shipping

$46


Cost Per Part

$7.69


Cost Per Part*

96hrs


Time Per Part

17hrs


Time Per Part

17hrs


Time Per Part

$13,143


Annual Cost

$7,644


Annual Cost
(material + printer)**

$2,566


Annual Cost
(material + printer)**
Based on industry averages for outsourcing 3D printing to fulfillment services and averages of entry level industrial platforms.
* Based on 52 parts per year average, prices shown in USD
** Cost of material plus the cost per print of the printers depreciated over a period of 3 years.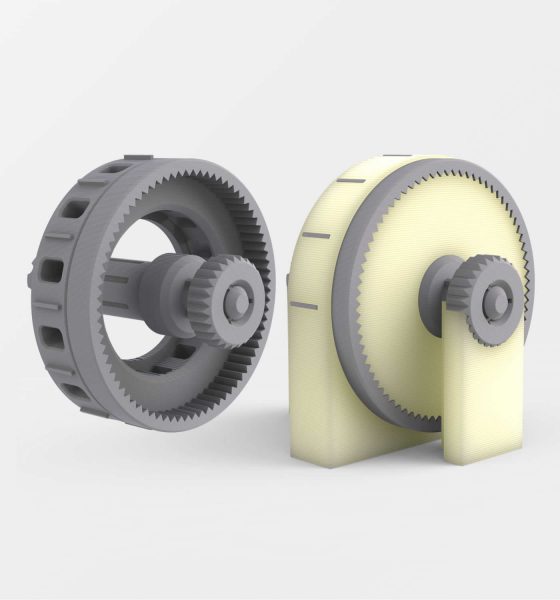 MakerBot METHOD Benefits
Maximum innovation with minimal investment
Accelerate Product Development

Put speed and control into your design cycles while reducing production costs to bring your products to market, fast. A project requiring 10 design iterations can be reduced to 4 days in-house using METHOD, as opposed to 40 days (including shipping) from an outsourced supplier.

Reduce Design Risk

Design mistakes found late in production can be exponentially more expensive than when found earlier in the product  development cycle. METHOD allows your team to test and validate more prototypes with accuracy early and often; minimizing potential cost overruns later in production.

Reclaim the cost of development time

Put an end to frivolous tinkering, equipment upkeep, and stalled innovation at the cost of valuable design time. With the DNA and architecture of an industrial 3D printer, METHOD is built and extensively tested by MakerBot to print reliable prototypes—no tinkering or calibration required.

Low Total Cost of Ownership

From the purchase and installation to ongoing maintenance, materials, and support, METHOD is designed from the ground up to deliver industrial-quality performance at about one-third the first-year cost of ownership of an entry-level industrial 3D printer.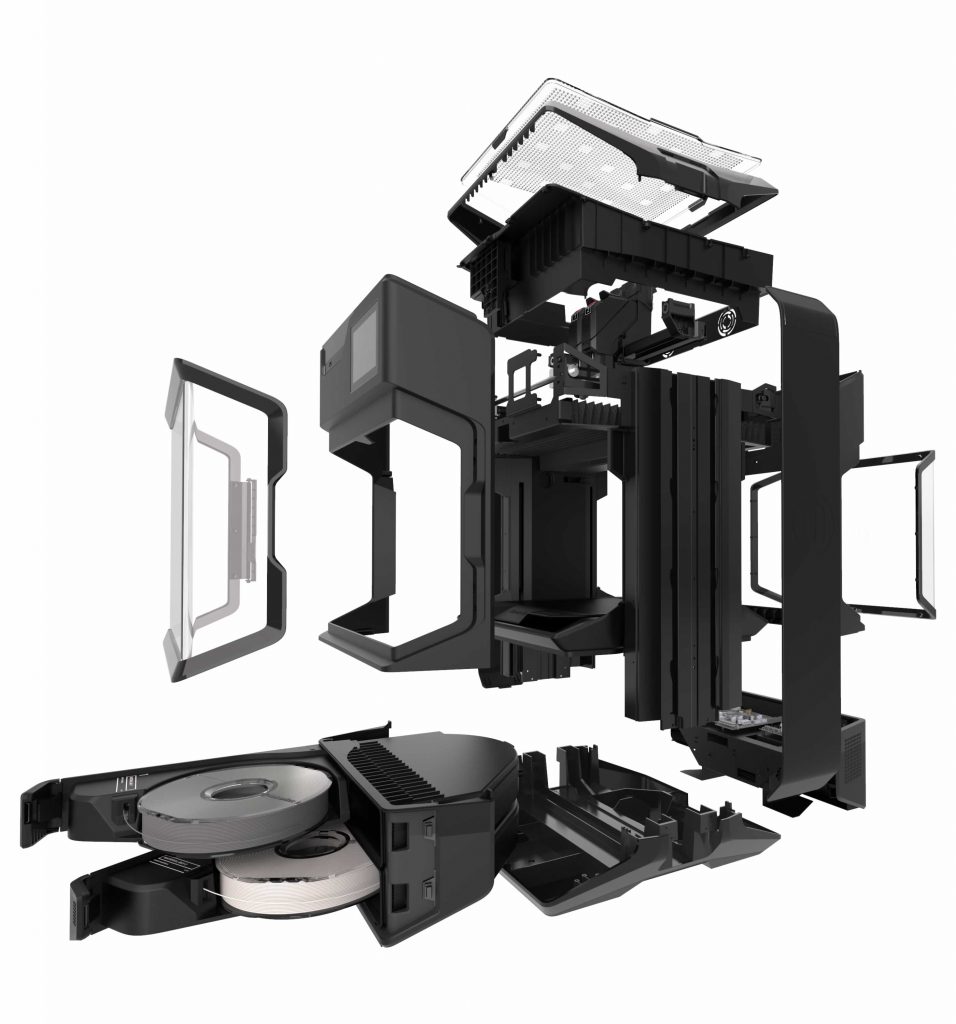 MakerBot MakerCare for Method
Why choose MakerCare Platinum Service?
* MakerBot Support business hours are Mon–Fri: 9am-6pm ET
** Expedited shipping means that a part is shipped to a customer via overnight shipping at the earliest availability (usually within one business day), so customers can expect to receive their parts within 2 days. Replacement parts exclude consumables.
Is the MakerBot METHOD right for you?
Call us free at  1-877-219-6757  and get your questions answered