Javelin-Cimetrix through solution partners provide CNC Machining Services, including milling, and turning for the production of high-quality parts using modern machining methods. Our solution partner employs highly skilled machinists and industry-leading equipment to accommodate a vast array of manufacturing applications.
Learn more about the CNC services available:
CNC Machining Features
We can create complex and precise machined parts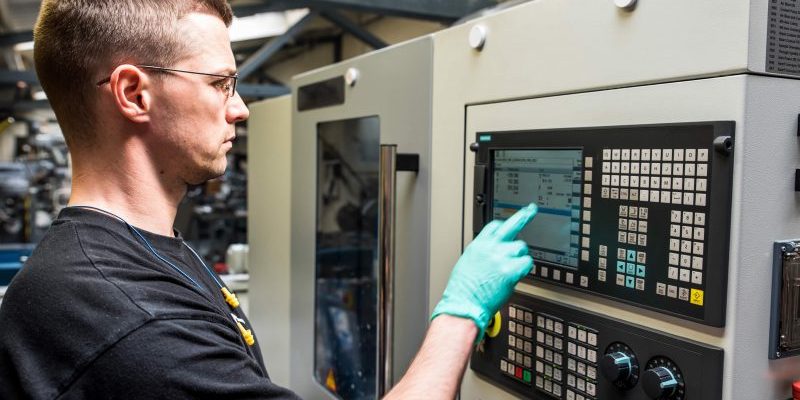 Fast & Precise Part Production
Our partner has the capacity to create CNC machined parts with unrivaled speed.
At the same time, their experienced engineers ensure the highest standards with cutting edge software and equipment.
Our solution partner is dedicated to providing the fastest CNC machining in the industry, with projects programmed and started the same day as order.
Our partner operates more than 20 state-of-the-art machining centers with a wide variety of CNC equipment such as single axis lathes for executing round parts such as nozzles, engine components and thread shafts.
Plus 5-axis machines, which substantially reduce turnaround time by eliminating intermediate setups and enabling undercuts and off-axis features.
We offer a variety of expertly applied finishing options to improve the mechanical and aesthetic properties of your CNC machine component, including painting, anodizing, EMI and RFI shielding and hand polishing.
CNC Machining can also be used to finish 3D printed parts that require boring, drilling, face milling or other precision machining for enhancing features.
CNC Machining Materials »
CNC Machining Service Materials
Meet your most demanding and precise applications with CNC materials. Our partner can machine virtually any engineering material, including plastics, metals, alloys, and foam or tooling board.
Plastic Materials for CNC Machining
Material
Description
Benefits
Applications
ABS
Low cost engineering plastic that is easy to machine and fabricate

Excellent impact resistance
Good machinability
Excellent aesthetic qualities
Easy to paint and glue
Good strength and stiffness
Low cost

Machined prototypes
Structural components
Support blocks
Housings
Covers

Polycarbonate
Engineering plastic with excellent dimensional stability and good strength and stiffness over a wide range of service temperatures.

Low moisture absorption
Good insulating properties
Excellent flammability rating
Easy to fabricate, paint and glue

Structural applications requiring clarity and impact strength including lenses, manifolds, site glasses and machine guards
Electrical applications

Polycarbonate 20% GF
20% glass reinforced polycarbonate with higher temperature and tensile properties.

Superior impact strength
Excellent dimensional stability
Outstanding mechanical strength and stiffness
Transparency
Good electrical properties
Good machinability

Gears, rollers, internal mechanical parts, connectors and relays
Pumps, valves, light bezels and instrument panels

Nylon 6/6
Type 6/6 is a general purpose, standard grade nylon. Extruded in natural and black.

Outstanding wear resistance
Low frictional properties
Very good temperature, chemical and impact properties

Ideal for metal replacement applications such as:

Bearings
Gears
Sheaves
Sprockets

30% GF Nylon
30% glass-fiber reinforced nylon 6/6 material with superior abrasion and wear resistance.

More than double the strength and stiffness of unreinforced extruded nylons
Heat deflection temperature approaches its melting point

-
Delrin
Crystalline plastic that offers an excellent balance of properties that bridge the gap between metals and plastics

Good dimensional stability
Excellent machinability
Superior impact and creep resistance
High fatigue endurance
High strength and stiffness properties
Chemical resistance to fuels and solvents
Low moisture absorption
Good wear and abrasion properties

Ideal for many industrial wear and mechanical applications
Parts exposed to a moist or wet environment, such as pump and valve components
Gears
Bearings
Bushings
Rollers
Fittings
Electrical insulator parts

HDPE
HDPE is used in a wide variety of applications and industries where excellent impact resistance, high tensile strength, low moisture absorption and chemical and corrosion resistance properties are required.

Meets FDA/USDA food handling guidelines (natural color)
Chemical- and corrosion-resistant
Light-weight
No moisture absorption
High tensile strength
Non-toxic
Non-staining
Thermoforming performance

Light duty chain guides
Orthotic and prosthetic devices
Secondary containment
Tanks
Thermoformed material handling devices
Water storage

Polypropylene
Crystalline material noted for its high strength-to-weight ratio, excellent chemical resistance and high performance in thermoforming and corrosive environments

Appropriate for applications to 180F (82C)
Resists most acids, alkalis and solvents
Meets FDA 21CFR 177.1520
Thermoforming performance
Chemical- and corrosion-resistant
No moisture absorption
Meets USDA guidelines for use in federally inspected meat and poultry packing facilities

Orthotic and prosthetic devices
Plenums and manifolds
Secondary containment
Valve bodies
Plating and anodizing process equipment
Pump components
Storage tanks

Clear Acrylic
Rigid, hard thermoplastic material that is characterized by its color range availability and easy fabrication

Sign manufacture
Point of Sales display units
Safety glazing
Machine enclosures
Model manufacture

PVC
Normal impact, high corrosion resistant polyvinyl chloride

High strength-to-weight ratio
Cost efficiency
Ease of fabrication
Economic balance

Ideally suited for applications where maximum chemical resistance is necessary

ULTEM™ 1000 Resin
Amorphous thermoplastic polyetherimide (PEI) material that combines exceptional mechanical, thermal and electrical properties; Natural ULTEM™ 1000 Resin (unreinforced) is a translucent amber material

Excellent mechanical strength
Outstanding heat resistance
Exceptional resistance to environmental forces
Inherent flame resistance with low smoke evolution

Medical
Electronic/Electrical
Microwave
Automotive
Aircraft

ULTEM™ 1000 20% GF Resin
Addition of glass fiber reinforcement to the basic ULTEM™ Resin

Greater tensile strength and rigidity
Improved dimensional stability

Medical
Electronic/Electrical
Microwave
Automotive
Aircraft

G-10 FR4
Versatile, all-around electrically insulating material

Epoxy impregnated laminate which meet
Metal Materials for CNC Machining
Material
Description
Benefits
Applications
Aluminum 6061 T6
Generally selected where welding or brazing is required or for its high corrosion resistance in all tempers; Machining is more difficult when compared to the other machining alloys

Formability is excellent in O temper and good in the T4 temper
Corrosion resistance and appearance after anodizing are superior to all other screw machine alloys while strength is the lowest

-
Aluminum 7075 T6
Baseline 7XXX alloy with a good balance of properties required for aerospace applications

First successful Al-Zn-Mg-Cu high strength alloy using the beneficial effects of the alloying addition of chromium to develop good stress-corrosion cracking resistance in sheet products

Aircraft and aerospace structures
Alclad skin sheet
Structural plate components up to 4 inches in thickness
General aluminum aerospace applications

Mic 6
Similar to those in the 7000 series with precise adaptable additions of Zinc, Copper, Magnesium and components of Silicon, Iron and Manganese

Light weight
Smooth flatness tolerance
Good machining qualities
Free from tension, contaminants and porosity

Machine components
Aerospace and automotive components
Electronics
Laser technology and optical industry

303 Stainless Steel
Austenitic free-machining stainless steel used primarily for parts requiring machining, grinding or polishing

Good corrosion resistance in mild environments
Good forming properties

Aircraft applications
Machine parts
Pump and valve parts
Architectural applications
Nuts and bolts

Mild Steel
-
-
-
Stainless Steel
-
-
-
Tool Steel
-
-
-
CNC Machining Resources
Learn more about CNC Machining and Part Production
Interested in our CNC Machining Services?
Call us free at 1-800-298-6437 and get your questions answered